I must admit, it's really nice having Thursday night games throughout the season. Seems to make the week pass by quicker. Week 3 kicks off tonight with the defending champion New York Giants visiting the 1-1 Carolina Panthers at Bank of America Stadium.
Eli Manning and the Giants are coming off a stunning come-from-behind victory over the Tampa Bay Buccaneers, 41-34, on Sunday. A game in which Manning out-passed Tampa's Josh Freeman in the final quarter alone. His two passing TDs in the fourth were enough to erase a 24-13 halftime deficit and his nearly 250 fourth quarter passing yards gave him an eighth-most 510 for the game.
Unfortunately for the 1-1 G-Men, WRs Hakeem Nicks, RB Ahmad Bradshaw and T David Diehl have all been ruled out for tonight's matchup with Carolina's 11th-ranked defense (13th vs. pass, 28th vs. rush).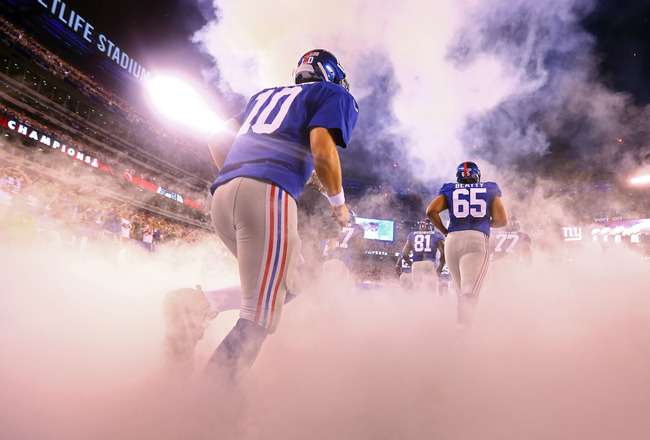 In Carolina's 35-27 victory over NFC South rival New Orleans Saints on Sunday, which some saw as somewhat of an upset, the offense ran for 219 yards and 3 TDs on 41 attempts. Led by sophomore quarterback Cam Newton's 71 yards, the team spread a majority of the carries between DeAngelo Williams (14) and Jonathan Stewart (11). Both backs ran for 50+ yards and Williams added a 3-yard third quarter touchdown.
Though Stewart (toe and ankle) will be a game-time decision tonight, the Panthers' run game isn't likely to back down against New York's 16th-ranked.
The No. 1 aspect in tonight's game to watch is without a doubt the quarterback showdown between the visiting Eli Manning and Carolina's Cam Newton. Both former No. 1 draft picks, this is surely the match-up to watch.
But, the bottom line here is that I believe the Panther offense will prevail, despite the idea that Stewart likely wont play much even if he is active. Eli without Nicks (10 catches, 199 yards, 1 TD last week) will be tough against a defense that has allowed just two touchdowns through the air thus far this season.
My prediction: Carolina 28, New York 21
Bold Predictions:
*Eli throws 2 INTs
*Cam Newton throws for 250 and runs for another 80; 2 pass TDs, 1 rushing
*Giants held to under 100 yards on the ground
*Jon Beason records another 10 tackles (did so in Week 1 vs. TB)
*New York Giants D: ZERO sacks against Newton
Interesting stat: Cam Newton has thrown for 2 INTs this season, Eli Manning has thrown 3 INTs. All five of those interceptions have come against the Tampa Bay Buccaneers.
Note: I do not own the above images. No copyright infringement intended.