Earlier today the NFL world discovered that we have lost a legend. Former Detroit, Chicago and New York placekicker
Pat Summerall
passed away in Dallas, Texas at the age of 82. Summerall, born on May 10, 1930 in Lake City, Florida, was better known as the voice of the NFL for several decades.
After attending the University of Arkansas, Summerall was drafted by Detroit in the fourth round of the 1952 draft.
Following his 10 seasons in the league, Summerall retired and his legendary broadcasting career began with CBS Sports in 1962. He began his new career covering the New York Giants and Washington Redskins games for the Network in the first several years before being paired with Jack Buck (and later Ray Scott) as the network's lead national crew. So after spending years covering specific teams, Summerall began covering all the teams in 1968.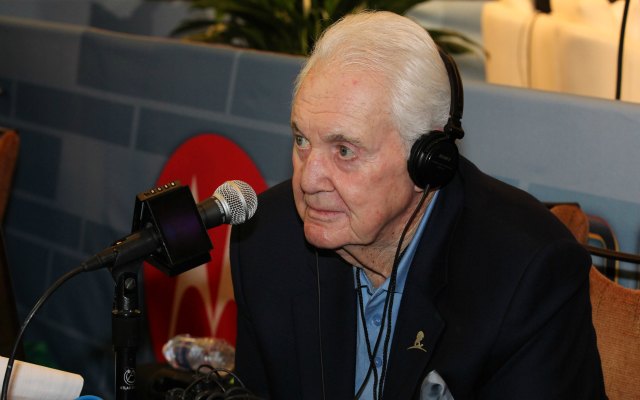 In 1974 Summerall made the switch from color commentary to doing just the play-by-play for games. He worked three Super Bowls alongside Philadelphia's legendary
Tom Brookshier
in the late '70s and early '80s. It wasn't until he teamed up with Hall of Fame head coach John Madden on CBS that Summerall gained national attention as a play-by-play broadcaster.
The Summerall-Madden partnership lasted over 20 years, and the two covered five Super Bowls together for CBS.
Similar to what Jim Nantz does today for CBS, Summerall dabbled in numerous additional sports for the network over the years. It wasn't just the NFL. Other sporting events include The Masters (Nantz is the voice of the event these days), the U.S. Open and the NBA Finals. He was a broadcaster for CBS until the early 1990s, before taking off for FOX Sports. Once again joining his old mate John Madden, the duo covered three more Super Bowls together for their new network.
He retired from the broadcasting industry during the 2002 season, right around the time John's contract had expired, abruptly ending one of the most well-known broadcasting duos in sports history. But Summerall's career didn't end there, as he was convinced to come out of retirement shortly after he announced he had finished.
Though he never teamed up with Madden again, Summerall went on to cover football games for FOX Sports and ESPN for a couple more seasons. His long list of accomplishments in his field includes being inducted into the National Sportscasters and Sportswriters Association Hall of Fame in 1994, the American Sportscasters Association Hall of Fame in 1999 and now has a sports broadcasting award named after him.
In all, Summerall spent more than four decades on the air for numerous different major sports networks and has broadcast a record 16 Super Bowls combined for both CBS and FOX. Quite the accomplishment in his industry.
Rest in peace, Pat Summerall. 1930-2013.
Note: We do not own the above images. No copyright infringement intended.