Here's preview article No. 2 of four: The NFC side of things.
The season officially kicked off last night with the Dallas Cowboys and New York Giants opening up NFC East division play.
Here's how the rest of the NFC East will play out...oh and also the NFC North, South and West as well, if that tickles your fancy.
I have been toying with the idea of Manning and his defending champs making a repeat at the East this season, but even before I predicted New York to defeat Dallas last night (which they didn't) I made the bold decision to pick Romo and his Cowboys to take the division this year. As I've stated before, Romo really is a great quarterback. His numbers show that, he just hasn't had the playoff success he'd hope for just yet. But neither has Matt Ryan and he's never been seen as a terrible quarterback. Romo stepped up and showed he can come up clutch last night. He has the tools on offense to put points on the board week-in and week-out, with receivers Miles Austin and Dez Bryant (plus Ogletree, who I'm not sold on like everyone else seems to be after one great game). DeMarco Murray's return brings a potent rushing attack back to the offense as well.
Led by DeMarcus Ware's two sacks last night, Dallas stepped up the defense and forced a couple of Victor Cruz drops while limiting New York to just 269 total yards and 17 points. Making upgrades in the secondary with Brandon Carr and rookie Morris Claiborne taking over the corner roles, Dallas' 23rd ranked pass defense looks to be taking strides at improving this season (7th against run).
Competition will be stiff in the East, with the exception of Washington. Everyone seems to be convinced that the Colts and Skins will both be immediate title contenders now that they have Luck and RGIII on their side. Not the case. The Skins do have a great defense, a defense that ranked 13th overall last season. But the offensive side of the ball is nowhere near where it needs to be in order to compete with Dallas, New York and Philly this season. The Giants will be playoff contenders with virtually the same team as last season, while Philadelphia and Washington see similar fates as last season. I'm not buying into a bounce-back season from Michael Vick unless he takes better care of his body on the field. Washington just barely fails to reach .500 in 2012.
I'm completely convinced that the Packers can somehow improve on its 15-1 regular season from last year. Yes, that means that perhaps 16-0 could be possible for reigning MVP Aaron Rodgers and his offense. Why not? Last season the Pack ranked third in passing offense and Rodgers only seems to get better with each passing year. The run game, however, was an embarrassing 27th in '11. That's why the front office brought in the once-troubled Cedric Benson (three consecutive 1,000 yard seasons) to take over the starting role at running back. When Rodgers isn't throwing bullets to Pro Bowlers Greg Jennings, Donald Driver and fantasy stud Jordy Nelson, Benson will be bowling over defenders.
The defense was top three in the Pack's Super Bowl run two seasons ago before taking a step back last season and becoming a sort of 'kryptonite' for the team––if there's such a thing for a 15-1 team. Once again, though, Green Bay made a bold decision, selecting six defenders with its eight draft picks in April. Former USC Trojan Nick Perry will complement All Pro Clay Matthews III on the outside while B.J. Raji and Charles Woodson/Tramon Williams continue to patrol the middle and backside of the line of scrimmage, respectively. The playmakers are all there for the defense, it's just a matter of keeping it all together each week.
Much like the East, the North division has three teams that will be in the middle of the playoff hunt and the fourth, Minnesota, may not be as far behind as we may think. The Jay Cutler/Brandon Marshall reunion may be quite the crowd pleaser in Chicago, but it will be the defense that will keep the Bears in the middle of the Wild Card hunt. In Detroit, all eyes will be on Matthew Stafford and Madden cover boy Calvin Johnson, but the lack of a run game may be the weakness of the Lions that could prevent another playoff run. Minnesota's fans have been anticipating Adrian Peterson's return for months now and at this point I'm just hoping he can return to his 1,700 yard form from 2008 (doubtful).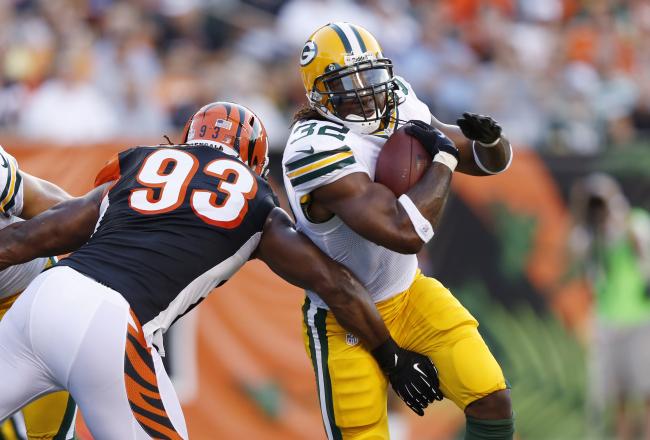 This is without a doubt the stunner of my division previews and I'm sure you're thinking I'm crazy for this one, but hear me out..I'm a firm believer in Cam Newton as a quarterback, and do not believe a "sophomore slump" is headed his way. Improving four games from 2010, the Panthers are clearly on the way up and after Newton's record-breaking 4,000 passing yards and 14 rushing touchdowns as a rookie, I'd like to think he can keep that balance between pass/run and not turn into a bigger version of Michael Vick. Perhaps more of a Randall Cunningham? Remember, he was a solid passer in terms of accuracy and (a little) clutch...as a rookie. With maturity and leadership, he could turn this team around as early as this season. Not to mention he's got a healthy DeAngelo Williams and Jonathan Stewart back.
Last season Carolina's defense was atrocious (28th overall; 24th vs. pass, 25th vs. run, 26.8 PA) and often cost the team ballgames simply because of a lack of limiting the other team's offense and forcing turnovers. Or perhaps it was a result of a lack of leadership on the field. With middle linebacker Jon Beason out for the entire season, Carolina really didn't have anyone to lean on when the defense was on the field. Well, he's back and the front office has made some upgrades, including drafting Luke Kuechly with the No. 9 overall pick. Leadership and depth could go along way to return the defense to at least a middle-of-the-pack unit this season.
Sure, New Orleans would be the easy pick to win the South. But I like to be bold every once in a while. The Saints have a great offense, clearly, but the defense has taken a hit as well as they coaching staff following the whole Bounty Scandal this off-season. They will need an interim for the interim head coach for six games this year. Head coach Sean Payton will be out the entire season while Joe Vitt is gone for six games. That's gotta have some sort of effect on this squad. Not enough to keep them out of the playoffs, however, and I believe it may be the Falcons that will be fighting for their playoff lives coming out of the South this season. For Tampa, it will take much more than Josh Freeman proving himself as an NFL quarterback to come out alive in this division.
West: San Francisco 49ers
Possibly the easiest division to predict a winner out of both the NFC and the NFC. It's tough to positively tell whether or not Alex Smith's breakout 2011 campaign wasn't a fluke, but there's no way he'll come out this season and go back to his old self. With head coach Jim Harbaugh leading the way, San Francisco's offensive attack will be top five in the conference. I believe the No. 1 reason for the offensive success last season, especially late, was that Smith didn't turn the ball over, neither did the rest of the offense. Ten. Just 10 times last season. That's four less turnovers than the No. 2 Packers in that category. If you're protecting the ball that well, you're going to win games whether or not your defense is tops in the league.
Luckily for San Francisco though, they also just so happened to be the No. 1 overall defense on the way to a 13-3 regular season record and a division title, five games ahead of the second place Cardinals (8-8) in the West. The offense didn't turned the ball over while the ball-hawk defense did the opposite, and that's force turnovers. No. 2 in scoring defense and tied for first in turnovers, the Niners destroyed opponents in all aspects, leading a once-huge draft bust in Alex Smith (19-31 career record as starter prior to 2011) into nearly a Super Bowl hero. Falling just short of a Super Bowl appearance last winter, the Niners have a shot at redeeming themselves in 2012.
This division, exactly like the way last season turned out, will not even be close unfortunately. Both Seattle and Arizona, despite naming rookie Russell Wilson and John Skelton as starters respectively, still have quarterback issues and a lack of offensive production will destroy any chance of beating out San Fran for the West title. As for St. Louis, they are currently in rebuild mode under new head coach Jeff Fisher, so I feel they will be irrelevant. All things are pointing towards a Niners, Cards, 'Hawks, Rams finish, in that order obviously.
Well, that just about wraps up my division previews. Both conferences have been completed, although I have yet to reveal my playoff seedings and match-ups. Sorry, but you'll have to wait just a tad bit longer for those (either later tonight or tomorrow). In addition to my regular season awards, which are sure to blow your mind––or maybe you know just as much as I do??
Note: I do not own any of the above images. No copyright infringement intended.