Week 2 of the NFL season has been wrapped up and, to be honest, the National Football League is having the worst start to a season in the past decade or so.
With the continuation of the NFL officials' holdout, the replacement officials suited up for another week of action, much to the dismay of fans and experts everywhere. Due to the limited amount of NFL-level training that these officials have received, these guys are doing everything they possibly can to provide the NFL their services.
Unfortunately, these services are not going over well if players, coaches and fans. If I were to take a ballpark estimation, I would likely say there's been between three or four blown calls a game this past weekend. Week 1 seemed to go smoothly considering the circumstances the replacement officials are in, but this week it's gotten a bit out of hand.
Commissioner Roger Goodell has seemed to focus more on the Saints' bounty scandal (met with Jonathan Vilma yesterday and Will Smith and Anthony Hargrove earlier today) rather than focusing on reaching a new deal with the real officials.
It's sad, if you ask me. The actual officials make probably around $8,000 a week and are looking for a raise, but Goodell and the NFL don't seem to wanna work out a deal that gives them a couple thousand more bucks.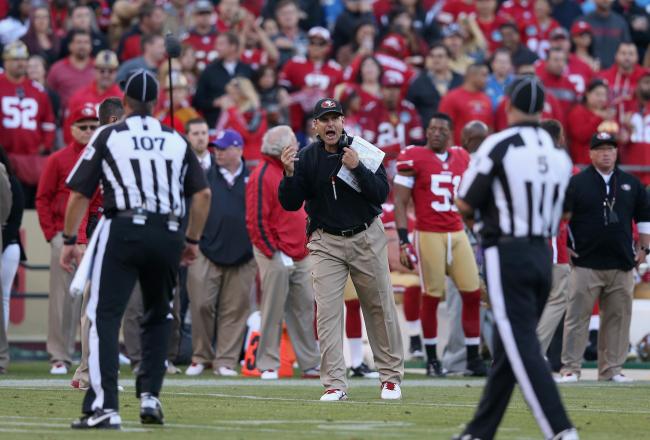 With the league making billions, and Goodell making millions, I'm pretty sure they can afford to raise the pay. In fact, Goodell himself could pay them straight from his pocket and still be making millions each year.
The fans clearly are not happy one bit with this situation and, if Goodell knows what's good for the league and himself, he would be doing everything in his power to get the real guys back out there. A couple more weeks of this, and fans may actually start boycotting games. What does that mean? Less money for the league.
I hate to break it to Mr. Goodell, but he's doing this to himself.
Anyway, I think it's time to get off that subject and start digging in to this past weekend's games. It's not just the officials that are having a hard time, quite a few teams and players struggled this past weekend. Instead of focusing on the good (which is what I usually do), I'm going to take this time to highlight the negative things that have taken place. It sounds terrible, I know. But it's gotta be done at some point.
Cutler's 4 INTs, 7 sacks vs. Packers
Not only was Jay Cutler the first quarterback to be sacked seven times and throw four interceptions in Week 2 against the Packers for the first time since 2002, but he also made a vital mistake while on camera: he shoved his teammate LT J'Marcus Webb. Earlier today Cutler admitted that he regrets doing so while also saying he wished to have seen more fire from him.
Looking back at the film and highlights, it certainly wasn't any one specific who is to blame for the struggles. As a team, the offense failed to move the ball and Cutler held on to the ball a little longer than he should have on a couple of occasions. If this offense is going to win some games this season, they will need to communicate and play together. Thursday night's 23-10 loss was a little embarrassing and probably shouldn't have even been that close of a game in the end.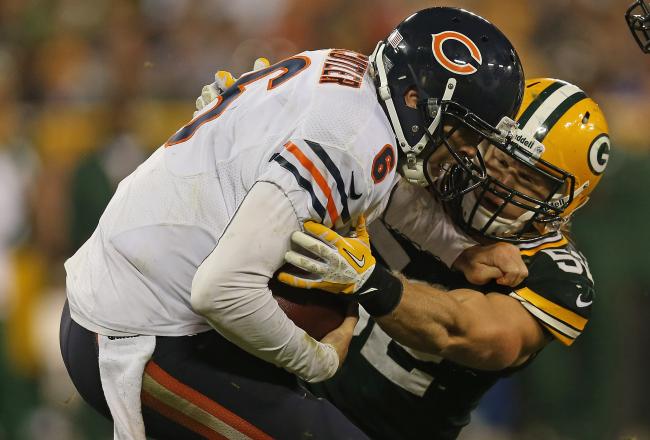 Patriots miss last-second field goal, fall to Arizona
Arizona's defense owned Brady in this one, that's all there is really to say. Sure, he threw for 300 yards on the day but he also struggled in the red zone (1/3) was sacked by Arizona's defense four times. New England was forced to settle for five field goal attempts but only managed four of them as Stephen Gostkowski failed to convert a 42-yarder with a minute to play. The frustrating part for New England is the fact that Danny Woodhead had scored on a 30-yard touchdown five plays prior but Rob Gronkowski was called for holding, nullifying the potential game-winning touchdown.
The missed field goal allowed the Cardinals to improve to 2-0 in its first game with Kevin Kolb (15/27, 140 yards, 1 TD) as the team's starter in 2012.
Despite 2-0 record, Philly's turnover woes continue
For the second consecutive week, the Philadelphia Eagles pulled away with a one-point victory as a result of a late scoring drive. Quarterback Michael Vick came off a four interception Week 1 game against the Browns by throwing for two more against the Baltimore defense. In total, the Eagle offense has committed nine turnovers in two games. Vick threw nearly 60 passes in the first game but, luckily for the Eagles, head coach Andy Reid gave running back LeSean McCoy more touches this past weekend and the Eagles defense bailed out Vick late in the game.
In both games, Philly controlled the game clock by nearly 10 minutes and saw a lot of time on the field. The 25 carries for McCoy against Baltimore may be the reason, and if they would like to continue to win the close games it's all up to the run game.
Saints fall to 0-2
First, they were victimized by Robert Griffin III in his first career start, allowing him and his Washington offense to put up 40 points and out-dueling Drew Brees. Second, division rival Carolina ran all over them with 219 yards and 3 TDs on 41 carries en route to a 35-27 victory. It appears as though the absence of head coach Sean Payton is having a larger effect on the team than we anticipated.
Drew Brees has struggled as well, much to the dismay of interim coach Aaron Kromer. In two games, Brees has completed just over half of his passes for 4 TDs and 4 interceptions. Hopefully having the Kansas City Chiefs enter the Superdome this Sunday will help ease the pain.
Josh Morgan's actions cost Skins the game
Washington Redskins wide receiver Josh Morgan made the biggest bone-head play of the season...and it's only Week 2. On a potential game-tying or game-winning drive, Morgan made a seven-yard catch on 3rd & 8 and, after being tackled, was subtly shoved by Rams' cornerback Cortland Finnegan. Now, we all know Finnegan is known for being a dirty player and doing things such as this. Morgan even knew and acknowledged this earlier last week. Yet Morgan let him get in his head anyways, as he threw the ball at Finnegan and cost the Skins a 15-yard unsportsmanlike conduct penalty.
Of course the Skins ended up out of field goal range and failing to convert on fourth down, thus ending the game and giving the Rams a 31-28 victory. What an awful way to lose a ballgame and I don't think head coach Mike Shanahan and Morgan's fellow teammates will let him live this one down any time soon.
Tennessee's run game struggles
Three seasons removed from his historic 2,000 yard season and Pro Bowl running back Chris Johnson is having the worst start to a season in his five year career. Through its first two games, Tennessee is 0-2 and the offense has totaled just 58 yards on 26 carries against New England and San Diego, which comes out to an average of 2.2 yards per carry. Over these two games, the team has also scored just 23 points and no TDs on the ground.
If that's not something that makes you shake your head in shame, then I don't know what does. To make matters worse, Chris Johnson was the first running back I selected in my league's fantasy draft this season. Ouch.
Manning throws 3 INT in opening quarter, falls 27-21
Watching last Sunday night's prime time matchup that featured Peyton Manning's return made me think he would be able to just step right in and dominate the opposition like the old days, despite him saying he still wasn't at 100%. Well, clearly he (Peyton) was right when he said it's going to take a lot of work to return to full form. In his first eight pass attempts last night he had three interceptions, which were all pretty much due to him overthrowing his intended target.
I must admit, Denver's MNF loss to Atlanta, 27-21, was one of the worst games I've seen from Manning in quite a while, and he even almost ended up coming out on top in the end. Many of his passes were as ugly and wobbly as Cutler's on Thursday. It appeared as though he had quite a few dead ducks in his arsenal.
Gabbert throws for 53 yards in 27-7 loss to HOU
Remember how Blaine Gabbert was supposed to break out and establish himself as a passer in Jacksonville this season? Well, people have already forgotten all of that talk and we are just two weeks in. He managed just 53 yards on 7/19 passing against Houston's stingy defense on Sunday. His average per pass was a lowly 2.8 yards. Even against Houston's tough defense, there is no reason any quarterback in this league should be putting up numbers like that.
-_-_-_-_-

Ok, well, now that I've give you nightmares by highlighting the bad from this weekend, I guess I'll take a few paragraphs to highlight some good things as well...
*C.J. Spiller continues to shine for Buffalo, filling in for the injured Fred Jackson. In the Bills' 35-17 victory over Kansas City, Spiller ran for 123 yards and 2 TDs. More good news in Buffalo, quarterback Ryan Fitzpatrick is the only starting QB left that has yet to be sacked through the first two games.
*Rookie Andrew Luck threw for 224 yards and 2 TDs and captured his first victory in the NFL as his Colts improved to 1-1 thanks to a 23-20 victory over Minnesota. Kicker Adam Vinatieri kicked a game-winning 53-yard field goal with :08 to play.
*Reggie Bush has shown he can be a No. 1 back with his 172 yards and 2 TDs against Oakland. Rookie Ryan Tannehill's 200 yards and one TD led the way for Miami as the Phins defeated the Raiders 35-13.
*Can't go without highlighting Eli Manning's 510 passing yards, tied for 8th-most in a single game. Ever. Not only that, but Eli led his G-Men to a come-from-behind 41-34 victory over Tampa Bay. Remember all that fourth quarter success he had last season? Well he threw for 2 TDs and nearly 250 yards in the fourth on Sunday. Outrageous.
*Russell Wilson looked pretty solid against Dallas' defense, putting up 27 points with the help of 122 yards rushing and a TD from Marshawn Lynch. Wilson attempted just 20 passes, completing 15 of them, as Pete Carroll took pressure off Wilson by running the ball 41 times for 182 yards and a TD. It appears as though that was the perfect combination for rookie Wilson.
Note: I do not own the above images. No copyright infringement intended.