Here at All-Out Blitz we've decided to come out with a series I like to call "NFL History 101." This is a series that will feature a different subject/topic each time and will focus on anything that has to do with NFL history, ranging from past to current players, season recaps of certain teams, records being broken, playoff/Super Bowl flashbacks and more.
The first installment of the series is a closer look at some of the game's most dominant 300+ pound defensive tackles, both past and present. In no particular order, I've picked out 12 of the league's most fan-friendly, popular and dominant defensive tackles weighing over 300 pounds and have included images of course.
The list includes four active players, five Super Bowl champions, one Hall of Famer and one soon-to-be Hall of Famer.
Tony Siragusa 330 lbs––12 seasons with Colts, Ravens
Tony A.K.A. "The Goose" spent just over a decade clogging up the middle of the defensive line and punishing quarterbacks. Siragusa anchored the defensive line of arguably one of the best defenses of all-time, helping the Ravens' snag a Super Bowl championship in 2000. He may be best-known for knocking Oakland Raider quarterback Rich Gannon out of the AFC Championship game that season, falling on top of his shoulder with his 330 pound frame.
Vince Wilfork 325 lbs––9 seasons with Patriots (active)
For a 325-pounder, Mr. Wilfork sure does move fast. And, lets face it, it's a lot of fun watching a 300-pound man running down the field. The Goose never picked off a single pass or scored a touchdown, but Wilfork has two career interceptions and has a defensive TD to his name. All three of these occurrences happened last season, which ended with his fourth Pro Bowl appearance. One of the most exciting and dynamic d-tackles in the game today.
Casey Hampton 320 lbs––12 seasons with Steelers (active)
Hampton, 35, has started all 13 games for Pittsburgh this season, and is just as effective at stopping the run as he has been over the last dozen seasons. He's not the most exciting 300+ guy on this list, but he's no slouch when it comes to stopping running back in their tracks. Not a good idea to run up the middle when Hampton's on the field.
Cortez Kennedy 305 lbs––11 seasons with Seahawks
The lone Hall of Famer on the list, the 8-time Pro Bowler had a freakish combination of power and speed, and was a physically-imposing threat at the defensive tackle position. Kennedy, due to the fact he was never on a championship team, seemed to fly under the radar for a majority of his career, but he was no doubt the biggest threat on the Seahawk defense during his time.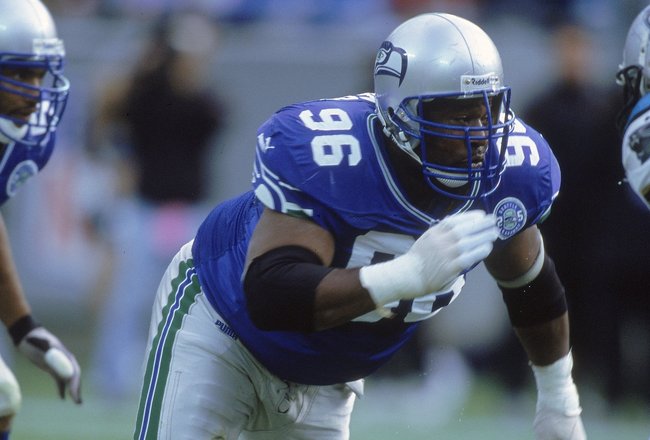 Warren Sapp 303 lbs––13 seasons with Buccaneers, Raiders
Sapp is the guy on this list that is a soon-to-be Hall of Famer, as this year is his first year of eligibility (he's one of 27 semi-finalists). With 13 seasons as not only a dominating force up the middle, but one of the most eccentric personalities of his time, I strongly believe Sapp will be enshrined into Canton within the next two years. With four seasons of double-digit sack totals and nearly 100 for his career (96.5 to be exact), Sapp struck fear into every quarterback he went up against.
Haloti Ngata 335 lbs––7 seasons with Ravens (active)
At 6'4"/335 pounds, the 28-year old has certainly established himself as the best d-tackle Baltimore has seen since the Siragusa days. With 45 combined tackles and 4.0 sacks in 12 starts this season, he's looking to capture his fourth consecutive, and career, Pro Bowl appearance this season. Ngata is the second-heaviest player on our list of 12, and is arguably the most dominant of the four active players.
Tim Bowens 325 lbs––11 seasons with Dolphins
Bowens spent his Dolphin career as more of a role player than anything else, but the two-time Pro Bowler managed to squeeze out a spot on the list mainly because of his productivity and his consistency. Bowens missed just four starts in his first nine seasons in the league and accumulated 22.0 sacks over his career. He was reliable, though never as flashy or electric as the likes of Sapp, Siragusa or Wilfork.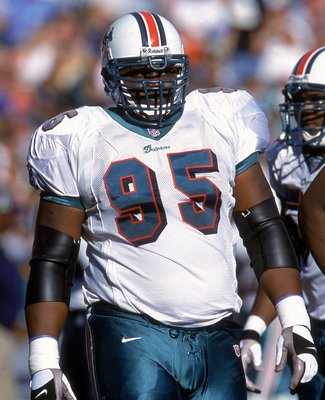 Gilbert Brown 340 lbs––10 seasons with Packers
Brown was not all that productive over his decade-long career in Green Bay. Nope, Brown simply made this list because of his size. Now 41, the 6'2"/340 pounder was always interesting to watch move around the field. By far the largest man on the list in terms of weight, I had to give him and Bowens a spot simply because there were not too many other big men to choose from. Some of the most dominant defensive tackles in NFL history ranged from 275-290 pounds, not 300-plus.
Brentson Buckner 305 lbs––12 seasons with Steelers, Bengals, 49ers and Panthers
Buckner began his career with the Steelers, being a part of the great 1995 Steeler defense that represented the AFC in the Super Bowl. As a second-year player that season, Buckner started all 16 games at D-tackle while raking in 49 combined tackles and 3.0 sacks. It wasn't until he began his final stint, with Carolina, in 2001 that he became a household name, however. Buckner made 146 tackles and 14.5 sacks in five seasons with the Panthers to end his career.
Roger Brown 300 lbs––10 seasons with Lions and Rams
Brown was actually the league's first 300-pound lineman in history, interestingly enough. Playing with Detroit from 1960-66 and Los Angeles Rams from 1967-69, Brown went to 6 Pro Bowls, was named to 2 First Team All Pro rosters and was much faster than you'd expect from a 300-pound defensive lineman. Lets just say Brown paved the way for 300-pounders. Roger says you're welcome, everybody.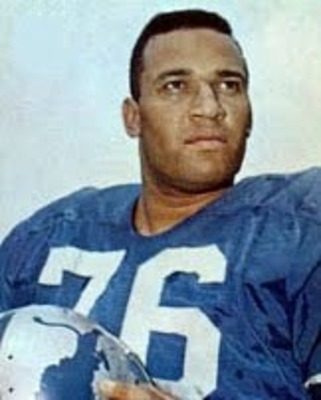 William Perry 325 lbs––10 seasons with Bears and Eagles
I don't think there are any NFL fans that are not well-aware of William "The Refrigerator" Perry's antics, whether you were living in the '80s or not. Perhaps the owner of the best NFL nickname of all-time, Perry wasn't just a threat on the defensive side of things (524 combined tackles, 29.5 sacks). Perry is best-known for playing fullback in goal-line situations for the Bears, most notably in 1985, when Chicago's "Monsters of the Midway" defense led Chicago to a 46-10 Super Bowl victory. Perry has four career offensive TDs (3 rushing, 1 receiving), one of which came in the Super Bowl victory.
Ndamukong Suh 307 lbs––3 seasons with Lions (active)
Too soon to add the 25-year old Suh? No way. Ndamukong has already established himself as one of the league's "dirtiest" and "most-hated" players and he has yet to even complete his third season in the league. There's no questioning his toughness and physicality, but there is plenty of questions swirling around his intent on the field. Whether or not he plays hungry, or just plays flat-out angry football, there's no questioning the fact that he's one of the most feared defensive tackles in the game right now.
The Next BIG Thing: Dontari Poe
The 22-year old Kansas City Chiefs rookie nose tackle has just 28 combined tackles and no sacks in his first 13 career NFL starts, but the 6'3"/346 pound NT has the size and ability to be the next big star. Literally. He certainly turned heads at the NFL Combine in Indianapolis last February, running a 4.87 40-yard dash in front of dozens of scouts. Pretty scary for a man pushing 350, huh? Give him some time in KC and he could develop into a huge threat up the middle.
Writer's note:
Now, clearly the 300-pound defensive lineman is a relatively new concept. There's just two guys on the list that are pre-1990 (Perry, whose rookie season was 1985 and Roger Brown, who played from 1960-69). The rest played either in the '90s or 2000s, and four of which are still active.
If this article were to read "most dominant defensive tackles in NFL history" this list would look completely different. In fact, it would likely be guys such as "Mean" Joe Greene, Bob Lilly, Randy White, John Randle, Merlin Olsen, Alan Page, etc. etc.
But once again, if there are any you believe I may have miss or simply overlooked, feel free to enlighten us in the comments section.
I'll just leave you with one last piece of evidence, a Youtube video of Vince Wilfork's top 5 moments in his career. A couple of the plays will have you double-taking:
We do not own the above images. No copyright infringement intended.