Well, first round voting for "The Ultimate March Madness Bracket: Greatest Player of All-Time" has now been open for exactly a week.
A tad longer than I was planning on leaving voting open, but we've received enough votes for each match-up to close first round voting and finally post results and open up Round 2. So, without further ado here's the second round of match-ups.
Note: The paragraph summary/accomplishments for each player are the same from the first round. There was no way we were going to re-write a different one for each of the remaining 32 players.
Again, here's how you cast your vote:
1. Leave your picks in the comments section below this article (you can do so anonymously if you would like).
2. Leave your picks on our Facebook or Tumblr page.
3. Tweet us your picks @AllOutBlitz1
4. Email us your picks at benheck77@yahoo.com
5. Or you may even send us a text message at 443-988-8597.
1 Jerry Rice (WR) vs. 9 Bruce Smith (DE)
Rice: By far the greatest wide receiver this game has ever seen. His numbers are incomparable to the rest of the wideouts both current and past. With 22,895 career yards, Rice is nearly 7,000 ahead of the second-place Terrell Owens. Going to 13 Pro Bowls and named to 10 First-Team All Pro squads over his 21 seasons, there's no doubt Rice's records will stand for years to come. Have I mentioned that the Hall of Famer has 208 total touchdowns and won three Super Bowls with the San Francisco 49ers.
Smith: If Lilly was "Mr. Cowboy," there's no doubt that Bruce was "Mr. Bill." The defensive end out of Virginia Tech was never the flashiest pass-rusher, but he sure was a dominating one. His all-time record of 200.0 quarterback sacks still stands today and the Hall of Famer spent 15 consistent seasons in Buffalo before finishing his career with the Washington Redskins. Though he never won a Super Bowl, his Bills were AFC's Super Bowl representatives for four straight seasons, and he earned 11 Pro Bowl selections as a Bill. What may be the most miraculous is that he played until he was 40 years old––at the defensive end position, no less.
4 Anthony Munoz (OT) vs. 5 Tom Brady (QB)
Munoz: One of just five offensive linemen to crack the field of 64, Munoz was a model of excellence for the Cincinnati Bengals. Anchoring Cincy's line from 1980-92, Munoz was elected 11 Pro Bowls in his 183 career starts. He was a model both on and off-the-field, winning the Bart Starr Man of the Year award in 1989 and the Walter Payton Man of the Year award in 1991. His impressive resume also includes being a 3-time winner of the Offensive Lineman of the Year award, being named to the NFL's 75th Anniversary team and the NFL's 1980 All-Decade team. Though his Bengals never won a Super Bowl, they did make two trips there in 1981 and 1988 (both losses came to San Francisco).
Brady: Tom is one of three active players on this list of all-time greats––one of two active QBs. At the age of 35, Brady still appears to have plenty of gas left in his tank. His New England Patriots have won three Super Bowls, as well as gone to two additional Super Bowls and lost. His resume includes: 334 touchdown passes, nearly 45,000 yards, eight Pro Bowls, 37 game-winning drives, two MVP awards, two Super Bowl MVP awards and 17 postseason wins in his 13 seasons.
3 Dick Butkus (LB) vs. 11 Rod Woodson (DB/KR/PR)
Butkus: Dick is still known by some as the most intimidating defender––not just linebacker––that this league has ever witnessed. During his hey days, defenders literally close-lined opposing players. And Butkus was known to rip off a running backs head and eat it for dinner. Voted to the Pro Bowl in all but one of his nine professional seasons in Chicago, Butkus clearly had the respect of his peers and even intercepted 22 passes over 119 games.
Woodson: Rod has one of the benefits of being a key piece to one of the top five greatest defenses in league history (2000 Ravens) towards the tail-end of his career. But, we all know he will always be known primarily as a Pittsburgh Steelers cornerback. A dual threat as both CB and a return man during the prime of his career, Woodson has four career kick/punt return touchdowns. But most impressively may be his NFL record 12 interception touchdowns––still one ahead of Charles Woodson and Darren Sharper. Spending 10 seasons with Pittsburgh, one with San Francisco and four with Baltimore, Woodson has 71 career interceptions (third all-time) and 11 Pro Bowl appearances.
2 Walter Payton (RB) vs 7 John Elway (QB)
Payton: "Sweetness" is arguably the greatest running back of all-time. Though his all-time rushing record (16,726 rushing yards) was surpassed by Emmitt Smith, there's still no doubt that Payton is one of the smoothest rushers we've ever seen. There are two other guys (Brown, Sanders) in this debate, but you could argue that they weren't as smooth with their feet as Payton. Walter was as graceful as they come, and he was the guy to make the jump-over-the-pile-into-the-end-zone wildly popular for running backs. Not to mention he did it the best. Mention the name Walter Payton, and it's likely that even non-football fans––especially in Chicago––would recognize the name.
Elway: For most of his career, Elway was known as a guy who could finish miraculous comebacks, but could never win the big one. From 1986-1989, Elway's Broncos made three Super Bowl appearances, but lost all three. The nine-time Pro Bowl signal caller was known for making plays with both his powerful arm and his shifty legs, accumulating 300 touchdowns through the air and 33 on the ground. He was a crafty gunslinger whose playing style finally paid off when he led his Denver squad to two consecutive Super Bowl championships in 1997 (over Green Bay) and 1998 (over Falcons), finishing his Hall of Fame career at the very top of the mountain.
1 Lawrence Taylor (OLB) vs 8 Jim Parker (OT/G)
Taylor: Despite what LT does with his personal time, he's certainly the best linebacker of all-time, arguably even overall defender. He talked the talk and walked the walk during his prime with the New York Giants in the 1980s. With seven seasons of double-digit sack totals (132.5 throughout his 13-year career), the 10-time Pro Bowler was a feared man on the field. Chasing down ball carriers from behind and knocking off quarterback's heads, Taylor surely wreaked havoc all over the football field. Perhaps he is best-remembered for ending Washington quarterback Joe Theismann's career after he suffered a broken leg. FYI: if you're the least bit squeamish, I don't advise looking up the footage of the LT/Theismann play on Youtube. It's ugly.
Parker: Jim, who died just under two years ago in Columbia, MD, helped protect Johnny Unitas' blindside at the left tackle position from 1957-1961 before moving to guard. During his 11-year career, all spent with the Baltimore Colts, Parker made it to 10 All Pro teams and started 135 games. The two-time NFL Champion (1958 and 1959) was a premiere pass blocker throughout his illustrious, Hall of Fame career and was named to the 1950s All Decade team.
4 Otto Graham (QB) vs 5 Emmitt Smith (RB)
Graham: Otto, along with the aforementioned Sid Luckman, was one of the greatest passers of his time. Like stated before, he holds the record for most yards per pass with nearly 9.0, and was the Cleveland favorite during the 1950s. He won three NFL Championships during the decade, and led the league in passing yards during five of his 10 seasons––also led league in TDs during three of those seasons. All those accomplishments added to his nine All Pro selections and it was enough to get himself in the Hall of Fame and have his No. 14 jersey retired by the Browns.
Smith: It's tough putting the league's all-time leading rusher (18,355) at the No. 5 seed, but looking at his numbers being spread out over 15 seasons makes it a bit easier. His 1991-1995 seasons eats up a majority of his yardage (led league in rushing four of those five seasons) as the final five or six so seasons of his career appear to be just above average. But there's no doubt he's still a top 5 talent when it comes to all-time backs. Especially considering he was a touchdown machine, leading the league in rushing TDs three times and destroying his competition in career rushing TDs (164, 19 ahead of second-place Tomlinson). His yardage and touchdown totals put him in discussion for best-ever despite also having the most career attempts by far (4,409, 571 more than second-place Payton).
3 Joe Greene (DT) vs 6 Ray Lewis (MLB)
Greene: This could obviously be argued, but Greene was, in our opinion, the heart and soul of the Pittsburgh Steelers' Steel Curtain in the 1970s. Leading one of the most dominant defensive runs ever, Greene anchored a Steeler defensive line that feature himself, L.C. Greenwood, Ernie Holmes and Dwight White. The 10-time Pro Bowler and Hall of Fame D-tackle could shed two or three blockers at once and still get to the quarterback or running back. He wasn't referred to as "Mean Joe" for nothing. Named to the Pittsburgh all-time team, the towering 6'4" Greene helped Pittsburgh win four Super Bowls in the 1970s.
Lewis: We're all well aware that Lewis just retired a couple of months ago, following the second Super Bowl championship of his illustrious 17-year career. Five years from now, the 37-year old will be a first ballot Hall of Famer and in the discussion as a top five linebacker of all-time. Not only was Lewis the heart and soul of the 2000 Ravens defense, but he has also been an emotional leader on the field throughout his entire career. He's the only player in NFL history to record at least 40 sacks and 30 interceptions. He has recorded over 2,000 combined tackles (1,573 solo) and has been selected to 13 Pro Bowls. He seems to come up big in the biggest situations, and his Super Bowl XXXV MVP award should demonstrate that perfectly.
2 Reggie White (DE) vs. 7 Dick "Night Train" Lane (CB)
White: The Reggie White story is a sad one, as his life was cut short and he passed away at the age of 43 in 2004, just four short years after his career with Philadelphia, Green Bay and Carolina had ended. White, known as the "Minister of Defense," a reference to his faith and domination on the football field, was said to be one of the most gentle people off the field. But, on the field, White destroyed opposing offensive tackles coming off the edge, sacking 198.0 quarterbacks throughout his 15-year career. He is just two sacks shy of Bruce Smith for most all-time.
Lane: Dick, nicknamed "Night Train" Lane, went undrafted in 1952 but ended up spending 14 seasons in the league with the Los Angeles Rams, Chicago Cardinals and Detroit Lions. At the time of his retirement in 1965, at the age of 38, Lane was the league's all-time leader in interceptions, with 68. He now ranks No. 4 on the list, but the seven-time Pro Bowl cornerback returned five of those for TDs. He does still, however, hold the record for most interceptions in a single-season (14) which he accomplished as a 25-year old rookie.
1 Jim Brown (RB/FB) vs 8 Gale Sayers (RB/KR/PR)
Brown: The bruising 6'2"/232 pound fullback was unstoppable, especially when you consider most defensive ends and tackles were about Jim's size back in his day. There were no 260-270 pound defensive ends to put him in his place. This led to an unstoppable force in what we call today "Jim Brown." He played just nine seasons with the Cleveland Browns, but he was selected to a Pro Bowl each of those seasons and broke 1,000 yards in all but two of those seasons, for a grand total of 12,323 yards and 106 TDs in a career that lasted less than a decade. His 5.2 yards per carry is eye-popping. It's clear that Jim Brown was football in the 1950s and '60s. The only season of his career that he did not lead the league in rushing yardage was when he ran for 996 and 13 TDs in 1962. The three-time MVP won a championship in 1964 and his nine-year reign will forever go down as one of the most dominating runs this league has seen.
Sayers: It's crazy to think that Sayers played just seven years in the league, yet he's in the Hall of Fame and is considered one of the best to do it. With his career cut short due to injury, Sayers was forced to walk away before the age of 30 and he's still the youngest HOF selection in league history (he was 34 at the time of election). The shifty back ran for just 4,956 yards, but led the league in rushing twice and was a very effective return specialist. Sayers has a career eight return touchdowns––6 kick, 2 punt. The four-time Pro Bowler still holds the record for most touchdowns in a rookie season, with 22 in 1965 (14 rushing, 6 receiving, 1 punt, 1 kick). Talk about a quadruple threat––rushing, receiving, punt return, kick return. One of the most elusive and durable players in league history?
4 Deacon Jones (DE) vs 5 Brett Favre (QB)
Jones: Deacon spent a majority of his 13-year career with the Los Angeles Rams, where the defensive end was known for his famous "head slap" of opposing offensive linemen. The move, later outlawed by the league, was unstoppable. Jones would simply use his large frame and long arms to slap the side of the tackle's head, which proved to make it near-impossible for Jones to be blocked. This led to utter domination and five All Pro teams while striking fear in quarterbacks and running backs, not just the lineman attempting to contain the beast.
Favre: No. 4 is the true definition of a gunslinger. In fact, I think he may have even copyrighted the term? Well okay, no not really. But not only does Favre hold the record for most career passing touchdowns (508), but he also holds the record for interceptions (336), yards (71,838), attempts (10,169), completions (6,300) and times sacked (525). Now, if that isn't the definition of a sure-fire gunslinger, then I don't know what is. His career postseason record is 13-11 in 24 starts, including a Super Bowl championship in 1996, and the 11-time Pro Bowler, whether they like to admit it or not, is still loved by Packer nation.
3 Don Hutson (WR) vs 6 Dan Marino (QB)
Hutson: Playing for the Packers in the '30s and '40, Hutson played multiple positions but was perhaps most effective at wideout. In his 11 seasons, Hutson caught passes and picked off passes as well. He is considered one of the first modern receivers in the NFL and even created some pass routes from today. At wideout, he led the league in receptions eight different times, yards seven different times and nine different times. When his career was finished, he caught 488 passes for 7,991 yards and 99 TDs, picked off 30 passes. He even did some kicking, making seven of his 17 field goal attempts and 94% of his 183 PAT attempts. True all-around star.
Marino: Certainly the best quarterback to never win a Super Bowl during his 17-year career with the Miami Dolphins. A pure pocket passer, Marino could make plays with his legs if he absolutely had to. The nine-time Pro Bowler put up a 147-93 regular season record and led the league in passing five different times. Before Peyton Manning, Tom Brady and Drew Brees came along, Dan Jr. held the single-season TD record (48) and passing yards record (5,084), which were both set during the 1984 season. It was also that season that Marino's Phins made it to the Super Bowl, only to fall to Montana's Niners, 38-16.
2 Johnny Unitas (QB) vs 7 Deion Sanders (CB/KR/PR)
Unitas: Johnny U is another player that you can't really look at the stat sheet and expect to pull results from it. I, unfortunately, never got to actually see him play, but his former teammates say he was one of the best leaders they've been around. He's been voted by numerous polls as the one quarterback that would be best to have for one game-winning drive, beating out the likes of Montana in the process. In a game completely different than today's game, Unitas was one of the most effective passers the league had seen, and he led the Colts to two NFL championships in addition to a Super Bowl V victory. Unitas stuck around until he was 40 years old and was selected to 10 career Pro Bowls.
Sanders: Not only was Sanders an excellent, shutdown corner and a devastating return man, but he also brought swagger to the National Football League. He changed the entertainment side to the NFL, and may have even brought in a whole new viewership with him when the Atlanta Falcons drafted him in the 1989 draft. Playing 13 seasons with four different teams, Sanders made an impact wherever he went. He was unlike a lot of other corners. He could defend the pass and the run on the outside, and wasn't afraid to get down and dirty. Not to mention he was a threat to score every time he got his hands on the football. He turned nine of his 53 career interceptions into touchdowns, as well as six punts and three kicks. Did I mention he also played baseball and is the only player to play in both a Super Bowl and a World Series game? Yeah, that too.
1 Joe Montana (QB) vs 8 Merlin Olsen (DT)
Montana: Tough to argue one of the winningest signal callers in league history, and possibly the best pure pocket passer. His numbers are there, especially in terms of postseason and Super Bowl wins, and he had total control of Bill Walsh's West Coast Offense. It didn't hurt that he had Jerry Rice and John Taylor to throw passes to, but there's no doubting the long list of accomplishments that "Joe Cool" has in his back pocket. Four Super Bowl victories, including 3 SB MVPs, eight Pro Bowls, two AP MVP awards, 16 postseason wins and a career 95.6 QB rating in the postseason.
Olsen: If you wanna talk about domination on the front line, how about Merlin Olsen of the Los Angeles Rams? He anchored the defense up front for 15 seasons, and was good enough to be selected to a Pro Bowl in 14 of those years (all but his final season). Coming into the league at age 22, out of Utah State, Olsen made an immediate impact for the Rams, winning the Rookie of the Year award that season. He never missed a game, and ended up playing in 208 of them. Talk about being durable, at 6'5"/270 pounds, Olsen had no trouble shoving opposing linemen around to get to the ball carrier. His No. 74 jersey is retired and, upon retirement from the game, Olsen even made a splash as an NFL commentator and actor.
4 Sammy Baugh (QB) vs 5 Jack Lambert (MLB)
Baugh: Sammy Baugh spent 16 seasons as Washington's quarterback, dominating the passing game in the process. The nine-time All Pro is a member of the Redskins' Ring of Honor, on the list of 70 Best Redskins and his #33 jersey is retired. As a passer, Baugh threw for close to 22,000 yards and 187 touchdowns during a time that was, again, basically an all-running league. He led the league in yards four times and was considered one of the most accurate passers at the time, completing 56.5% of his career passes and leading the league in efficiency nine times.
Lambert: The final member of the 1970s Steelers squad on this bracket, Lambert is by far the best one of them all. A top 5 linebacker of all-time, Lambert was best-known for his ferocity and aggressiveness. There are famous photographs of Lambert showing that, like a lot of hockey players, Lambert was often missing some of his front teeth. If that doesn't strike fear in an opponent on a football field, I'm not sure what else would. In his 11 seasons as a Steeler, Lambert racked up nearly 1,500 total tackles, 23.5 sacks and 28 interceptions. He was an all-around impressive linebacker who was also the emotional leader of the Steel Curtain defense in the '70s.
3 Ronnie Lott (S) vs 6 Bronko Nagurski (FB)
Lott: A Niner for a majority of his 14-year career, Lott was known around the league as one of the hardest hitting defensive backs in league history. The 10-time Pro Bowler won four Super Bowls while suiting up for the Niners from 1981-1990, and recorded over 1,100 combined tackles, 63 interceptions and 16 forced fumbles. He wreaked havoc all over the football field and wasn't afraid to get a little physical. The best free safety the NFL has ever seen play the game.
Nagurski: Grange's fellow teammate with the Chicago Bears, Nagurski was a bruising fullback for the Bears from 1930-43. He spent his time on the field knocking out opposing defenses and ran for 2,778 yards and 25 TDs in 75 starts over his nine-year NFL career in Chicago. Teamed with Grange, I think it's safe to say the Bears had a bruising backfield with the 6'2" Bronko leading the way.
2 Barry Sanders (RB) vs 7 John Hannah (G)
Sanders: In our humble opinion, we'd say Sanders is the greatest running back of all-time. Though historians would likely argue against that statement and say it's Payton and stat geeks would say it's Emmitt Smith (solely based on his all-time yards and TD numbers). But, looking at the bigger picture: Is there really anyone who can compare? Barry has the best highlight reel-worthy runs, played behind one of the worst offensive lines in the league at the time, meaning he had little talent around him. Not to mention he's likely run for the most negative yardage in NFL history, but still managed 15,000+ yards for his career. You add together that he played just 10 seasons and walked away from the game completely healthy, and you have the recipe for greatest production ever, right? Sanders made the Pro Bowl all 10 of his seasons and ran for under 1,300 yards just once. With a YPC average of 5.0 for his career, you give him two or three more seasons and he probably could have come close to 20,000 yards...which shatters Smith's record. Rant over.
Hannah: New England Patriots offensive guard John Hannah was arguably the best offensive lineman in history, playing 13 consistent seasons with New England. Hannah was the epitome of hard work and consistency for the New England offense, helping them get to the Super Bowl in his final season in the league (1985). That season he even was named to his ninth Pro Bowl and seventh All Pro team, as he went out on top despite losing the Super Bowl to the Chicago Bears 46-10.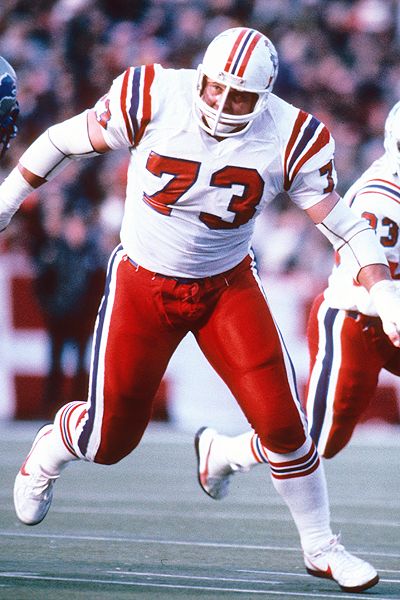 - - - - -
Round 1 Upsets:

9 Bruce Smith over 8 Bob Lilly
11 Rod Woodson over 6 Peyton Manning

Unfortunately we only witnessed two upsets in the opening round, and one was a No. 8 vs No. 9 seed (barely counts as an upset). But the Woodson over Manning upset was a pretty major one at least.
Best Players to lose in First Round:

Peyton Manning
Marcus Allen
O.J. Simpson
Bob Lilly
Ray Nitschke
Gino Marchetti
Alan Page
Jim Thorpe

BEST Round 2 Match-up:

Joe Greene vs. Ray Lewis
- - - - -
VOTE AWAY!
We'll likely leave Round 2 open for a couple of days, at least.
Note: We do not own the above images. No copyright infringement intended.