The 2012 season officially got underway last night in Canton, OH as the first exhibition game was played at Fawcett Stadium.
Fresh off signing his big-time contract extension, Drew Brees led his Saints–in the process of recovering from the Bounty Scandal–to victory over the Arizona Cardinals, 17-10.
Brees stepped right in and appeared to pick up where he left off in 2011, when he broke the single-season passing record with 5,476 yards. Brees completed four of his five attempts for 41 yards in his only series of the game, leading New Orleans down the field on a 77-yard scoring drive. Running back Mark Ingram ended the drive by running in from one yard out.

Chase Daniel took a majority of the snaps for New Orleans, attempting 20 passes, completing 15 of them for 203 yards, a TD and a pick.

There were replacement officials officiating the game, in the midst of the current battle going on between the regular officials and the league over a new contract (owners have locked out the officials). While it appears there were a couple of no-calls that should have been called, I'd like to think they did an overall decent job, considering they aren't quite ready for action, according to veteran official Tom Barnes.
Just like the replacements officials, it's clear that the preseason is for tune-ups and getting comfortable, meaning the winner and the score of these exhibition games does not mean a thing. However, it is vital for guys who are in position battles to look in tip-top shape throughout the preseason. Its often the preseason games that they are judged and analyzed by the coaching staff, rather than during practice.
This is why I believe that Arizona quarterback Kevin Kolb is on the hot seat after last night's dismal performance. First off, his first pass of the game was an off-balance, across-his-body interception by Malcolm Jenkins. Kolb left the game with a rib contusion after being tackled by Sedrick Ellis and landing on his shoulder.
Kolb went 1-for-4 with four yards and the interception to Jenkins, and he narrowly escaped being sacked in the end zone for a safety on two separate occasions.
Lets face it, Kolb took a huge step backwards in his battle for the starting quarterback position, especially when you consider that John Skelton, who went 5-2 in seven starts last season, jumped in for Kolb and looked impressive.
Skelton was taken out of the game prior to halftime, in favor of the 29-year old Richard Bartel, but he did manage to lead the Cards down the field on a 10 play, 69-yard scoring drive, capped off with an Alfonso Smith 4-yard rushing touchdown to knot the game up at seven.
Skelton left the game going 4-for-6 for 32 yards, methodically leading Arizona to seven of its 10 points on the night. What did Kolb do? Well, all he did was continue his trend of under-performing and then, once again, suffering an injury. He started just nine games last season (3-6 record, 1,955 yards, 9 TD, 8 INT, 57.7%), his season hampered by numerous injuries.
First it was turf toe, then it was a concussion. Now it's a rib contusion. While his contusion isn't expected to be a serious injury, it is still not the type of news he, or Arizona's organization/fan base, would have liked to hear.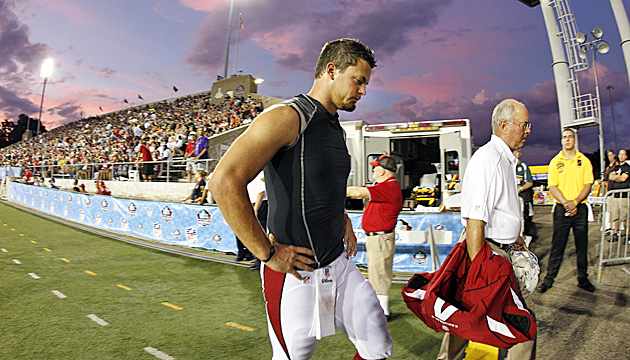 It's only a preseason exhibition game, yes. But there's no doubt that this will play a huge role in how the position battle turns out once the preseason wraps up in Arizona. In fact, I'm going to go ahead and make a bold prediction: John Skelton wins the starting job for Week 1 of the regular season.
You heard it here first, the 27-year old Kolb, who is under contract until the end of the 2016 season, will start the year on the Cardinal bench. It's almost Skelton's job to lose at this point.
Note: I do not own the above images. No copyright infringement intended.