Sure, the NFL season technically got underway with the Saints defeating the Cardinals 17-10 last Sunday in the 2012 Hall of Fame game. But that doesn't even officially count as a preseason game, it's just a simple exhibition game.
Tonight–Thursday August 9–is the official official start to the preseason, and I can barely contain my excitement as we are just under an hour away from the first kickoff.
Most fair-weather fans or occasional fans will tune out as soon as the starters are out of the game, which will likely come before the first quarter is in the books. But there are plenty of reasons to continue watching.
With six games on tonight's slate, there is no shortage of reasons to watch your beloved team in an exhibition-type atmosphere. Below I've created a cheat-sheet for you to follow as you flip through channels:
Washington @ Buffalo–7 PM ET
*Do you really need me to spell it out for you? No. 2 overall pick Robert Griffin III makes his NFL debut at quarterback for the rebuilding Skins.
*Aside from RGIII, Mike Shanahan's offense will be displaying its new weapon Pierre Garcon, who signed a five-year deal with the team in March
*We'll get a closer look at the running back position battle for WAS. Evan Royster, the sixth rounder out of Penn State in the 2011 draft (328 yards on 56 carries as a rookie), will get the nod as starter against Buffalo but Tim Hightower and Roy Helu are jostling with Royster for the opening day starting role.
*RGIII's fellow rookie signal caller, Kirk Cousins from Michigan State (third round selection), will get plenty of playing time as well.
*Is Ryan Fitzpatrick the long-term answer in Buffalo? They sure gave him the money last season.
*Fred Jackson vs. C.J. Spiller. Will Spiller bounce-back and win the starting role? Doubtful, but he will be battling it out with Jackson all preseason anyways.
*First look at DE/LB Mario Williams in the Bills' debut, likely forcing RGIII out of the pocket a couple of times.
*Vince Young era in Buffalo officially begins! If Fitzpatrick struggles early on this season, VY could get the nod from Coach Gailey, so all eyes will be on Young tonight.
Baltimore @ Atlanta–7:30 PM ET
*It's time for Flacco to back up his big talk this offseason. Obviously he will be out of the game after a series or two, but it'll be interesting to see if he's ready for the season already.
*I'm interested to see how Jacoby Jones' debut goes. I, personally, loved the addition of Jones, who will be a viable deep threat and a play a huge role on special teams.
*Dean Pees takes over as defensive coordinator for Chuck Pagano, who left the team to take over as Indy's head coach. Will there be major changes made this offseason?
*No Suggs for at least half of the season, probably more. So who will step up this season? Rookie Courtney Upshaw, Paul Kruger, Sergio Kindle? Someone's gotta take over in Suggs' absence and this is our first chance to take a closer look.
*Reed says he'll play this season, but Christian Thompson (rookie fourth rounder) will need to be prepared just in case, giving Thompson the spotlight tonight.
*Much like Flacco, Matt Ryan is looking to step his game up and take the Falcons to the next level. I expect Ryan to look sharp in his lone series tonight.
*With Michael Turner slowly aging, I would love to see Jacquizz Rodgers with an elevated role. Earlier today I actually learned he's expected to take some kicks. The speedster should excel as a return man in this game.
*Kelvin Hayden and Curtis Loften have departed this offseason on defense, but the incoming veterans Lofa Tatupu and Asante Samuel will be interesting to watch fill voids at linebacker and cornerback.
New Orleans @ New England–7:30 PM ET
*Drew Brees looked spectacular in the HOF game, of course. Look for him to lead just a single series again tonight though.
*Love watching the dynamic duo of little guys in the backfield–Darren Sproles and Pierre Thomas.
*Former Baltimore guard Ben Grubbs will replace the departed Carl Nicks, making it an interesting transition on the offensive line in New Orleans.
*Mark Ingram, last season's first rounder who ran for 474 yards and five TDs, will be looking to have a breakout season alongside Sproles and Thomas as they create a three-headed monster coming out of the backfield for Brees.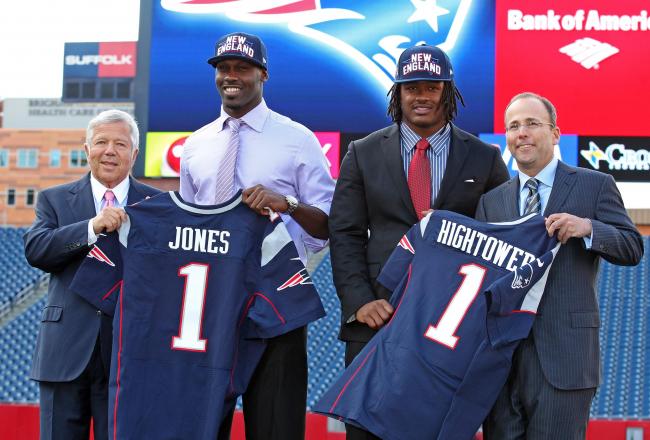 *Tom Brady and Brees will always steal the show, despite it being just a preseason opener. But, seeing Gronk and Hernandez back in action is sure to excite Patriots' fans.
*Belichick has added three new vertical weapons for Brady on offense in veteran receivers Brandon Lloyd, Jabar Gaffney and Donte' Stallworth.
*The most exciting thing about this New England team this year, to me, would have to be the added youth on the defensive side of the ball via the draft. Showing age last season, we will get to see the debuts of d-end Chandler Jones (first rounder), linebacker Dont'a Hightower (first rounder) and safety Tavon Wilson (second rounder). Excited for tonight yet?
Pittsburgh @ Philadelphia–7:30 PM ET
*Ben Roethlisberger is already beat up, so I wouldn't expect to see much of him tonight against Philly. That leaves the door open for vets Charlie Batch and Byron Leftwich to see plenty of the field.
*Will he play, or won't he? The Mike Wallace contract negotiations are continuing to swirl around the league, but I believe he will be playing for Pittsburgh this season. Unfortunately he likely wont be around during preseason, I just don't see his holdout ending before the end of the month.
*Not one, but TWO rookie offensive lineman will be starting tonight (G David DeCastro, T Mike Adams). How will the line hold up in their debuts?
*The Todd Haley makeover officially begins tonight, as the new offensive coordinator looks to begin his rebuilding and re-furnishing of the Roethlisberger-led offense.
*With Mendenhall out, Isaac Redman will kickoff "Redzone Redman" tonight as he looks prepared to carry the load for Pittsburgh this season.
*With Aaron Smith, Chris Hoke, James Farrior and William Gay out of the picture on defense and James Harrison banged up, it appears as though we could see a much younger defense on the field tonight.
*Philadelphia lost a few pieces on offense, but overall it's basically the same unit as the disappointing 2011 campaign. Can Mike Vick lead his Eagles back to the playoffs? The road starts tonight.
*Fletcher Cox, 12th overall pick this season, will be added to an arsenal of pass rushers (Jason Babin, Trent Cole, etc.) and looks to make an immediate impact.
*To tell you the truth, that's all the headlines I really have for Philly tonight. Most of the headliners will be on Pittsburgh's side of the field.
Green Bay @ San Diego–8 PM ET
*Wont be seeing much of reigning MVP Aaron Rodgers, but just seeing him step foot onto the football field is bound to be a glorious sight.
*Ryan Grant wasn't brought back this season, but there's a reason for that: James Starks is expected to take over and thrive running the football out of the backfield for Rodgers. We'll get to see a little of him tonight donning the 44 jersey.
*Remember how Jeff Saturday has spent the last 13 seasons with Peyton Manning in Indianapolis? Yeah, well, tonight he makes the green and gold his new uni and snaps the ball to another All Pro quarterback.
*Nick Perry, rookie outside linebacker, will make his debut alongside fellow Trojan Clay Matthews III. Speaking of which, wouldn't it be great to see Matthews' luscious locks peering out from under his helmet, flowing in the wind. Even if for just a series or two?
*Quarterback Philip Rivers may have lost Vincent Jackson, but he has some new toys this season: Robert Meachem and Eddie Royal. Both will make viable options down the field for a quarterback with something to prove.
*Newcomer Le'Ron McClain, fullback, will block for Ryan Mathews, who is hoping to finally have a breakout campaign this season in San Diego.
*First time on the field for San Diego since losing former linebacker Junior Seau this offseason to suicide. It's bound to be an emotional night for the Bolts in San Diego, unfortunately.
Denver @ Chicago–8:30 PM ET
*FINALLY! After 19 months, Peyton Manning, the Broncos' newest quarterback and likely the best one to put on the Bronco uni since John Elway announced his retirement, will make his long-awaited return. He'll play one series at most, but it will be a feel-good moment seeing Manning with a helmet on his head for the first time since the 2011 Pro Bowl.
*Former target of Mannings' in Indy, tight end Jacob Tamme will make his Bronco debut tonight as well. He is looking to breakout out as an every down target in the passing game.
*Rookie Brock Osweiler will make his debut with Denver once Peyton leaves the field for Denver. Should be interesting.
*Von Miller, reigning AP Defensive Rookie of the Year winner, will attempt to add on to his incredibly impressive rookie campaign.
*Jay Cutler and Brandon Marshall are reunited and it feels so good! Oh, and plus Matt Forte has his new deal, meaning he's as happy as he's ever been while repping the Chicago Bear uniform.
*The newly-signed Michael Bush gives Chicago an interesting option at running back on third downs this season. He's likely to see plenty of playing time tonight.
*Rookie Alshon Jeffrey, selecting in the second round, will look to prove himself as a satisfying second option for Cutler behind Marshall. Expect him to burst out of the gates in tonight's matchup.
*Once veterans such as Peppers, Urlacher, Briggs and Tillman put in their time, expect to see plenty of the young guns such as first round pick Shea McClellin and late-round corners Isaiah Frey and Greg McCoy.
Luckily for me, there is not one, not two, but THREE televised games on tonight in my area–Was/Buf, Bal/Atl and GB/SD on ESPN. Unfortunately I have not signed up for preseason live due to lack of cash for the time being. But I'm sure everyone else will enjoy the Manning debut while I'm watching the highlights.
Note: I do not own the above images. No copyright infringement intended.