While I was sitting in my apartment watching the Cardinals/Titans Week 3 preseason matchup last night, I made a very interesting discovery: Vonnie Holliday is still in the NFL.
In the league since 1998, the 36-year old Holliday has played with the likes of Reggie White, LeRoy Butler, Hardy Nickerson, Scott Fujita, Jared Allen, Zach Thomas, Jason Taylor, Elvis Dumbervil, Champ Bailey and London Fletcher over the last 14 seasons.
While I was aware that Holliday had been involved in the Tim Hightower trade that sent him from Washington to Arizona last summer, I was surprised to see that Holliday was in uniform last night after recording just 16 total tackles in his first season with the Cards last year.
Playing for four different teams since 2008 (Dolphins, Broncos, Redskins, Cardinals), it's clear that Holliday no longer makes the impact on defense that he used to. But there's no doubt it was still nice to see him on the football field for his second season as a Cardinal.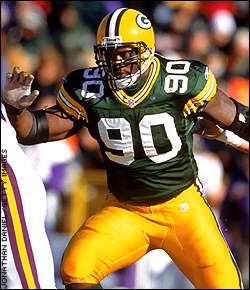 The 6-foot-5, 285 pound defensive lineman has not played a full season since 2008, starting 15 of his 16 games in his final season with Miami. Recording 45 tackles and 3.5 sacks at defensive end, Holliday finished the season with the third-most sacks on the team behind Joey Porter (17.5) and Matt Roth (5).
Coming in to the league as the No. 19 overall selection by the Green Bay Packers in 1998, hailing from the University of North Carolina, Holliday recorded 52 tackles and set a franchise rookie record with eight sacks in 12 starts. He never surpassed the eight sack total throughout his career, coming close with seven on two separate occasions ('01 with GB and '06 with MIA).
Playing with six different teams, Holliday's longest tenure was the five seasons he spent in Green Bay from 1998-2002. He started a full 16 games just twice over that five year span, yet he managed to record 252 total tackles, 32 sacks, 5 forced fumbles and 2 interceptions in 63 starts (50 tackles, 6.5 sacks per average season).
Holliday signed a five-year, $21.3 million deal with Kansas City as a free agent in 2003, spending two seasons with the Chiefs before numerous injuries forced his release at the end of the 2004 season.
Signing with Miami a few weeks later, Holliday made the switch to defensive tackle where he helped clog up the middle of the line for four seasons. Holliday was one of the best up the middle for several seasons, in addition to his ability to get to opposing quarterbacks. Holliday was most effective with Miami in his first two seasons with the team (2005 and 2006), combining for 12 sacks in two complete seasons.
More injuries slowed down his production in 2007 and '08, and he failed to produce once he left Miami. Three starts with Denver in 2009, two starts with Washington in 2010 and zero starts last season with Arizona. And that brings us to today.
Last night, he did see the field, though it was minimal and did not have much of an impact. He's a longshot to make the final roster, in my opinion, but it's a nice story at least.
I think Holliday, who will be 37 in December, is heading towards the end of the road in the National Football League. And I think the All-Out Blitz is one of the few sites out there dedicating an entire post to Holliday and his NFL career. Someone's gotta do it, right?
Note: I do not own the above images. No copyright infringement intended.