As I'm re-watching
A Football Life: Kurt Warner
, an hour long NFL Network documentary on the career of Super Bowl champion quarterback Kurt Warner, I've decided to open the debate a couple of years early: is Kurt Warner Hall of Fame-bound?
Trust me, I've done a little research and this may be one of the toughest calls the Hall voters will be forced to make in recent history.
In his 12 professional seasons with the St. Louis Rams, New York Giants and Arizona Cardinals, Warner put up impressive numbers while receiving the league Most Valuable Player award twice and the Super Bowl MVP award following his one Super Bowl victory in 1999 while in St. Louis.
If it came down to his back-story, and how he got into the league, he'd be a first ballot Hall of Famer without a doubt. But unfortunately that's not how the voters make the decision to induct a player into the Hall in Canton, Ohio.
The former grocery bagger and Arena Football League standout went undrafted in 1994. The Green Bay Packers invited him to training camp that summer, but due to a crowded roster in terms of QBs (Brett Favre, Mark Brunell and Ty Detmer), Warner didn't even last until the start of the regular season.
It was following his release from the Packers that the Iowa-native resorted to stocking shelves in a grocery store and playing in the Arena Football League. While playing for the Iowa Barnstormers from 1995 until 1997, Warner threw for 183 touchdowns and over 10,000 yards (the AFL is a much more pass-oriented league). His jersey is retired and he was inducted into the AFL Hall of Fame in August of 2011.
Three productive seasons in the Arena League was enough to get a tryout with the Rams in 1997, and newly-hired head coach Dick Vermeil saw potential in Warner. Prior to his second season with the Rams, starter Trent Green went down with a season-ending knee injury during a preseason match-up. This paved the way for Warner to step in and lead the Rams to an NFC West division title and Super Bowl appearance.
Going 13-3 during the regular season and throwing for 4,300+ yards and 41 touchdowns, Warner won his first of two career Associated Press MVP awards and was the key component of the Rams' "Greatest Show on Turf" offense that featured Hall of Fame running back Marshall Faulk and Warner's targets Isaac Bruce (future HOF wideout) and Torry Holt.
Receiving a first round bye in the '99 postseason, Warner's Rams got a Divisional round match-up with Minnesota and put up 49 points in the dome. A home Conference Championship win over the Bucs put the league's top scoring offense in the Super Bowl and Warner was the primary reason for this.
A late scoring drive for Warner's Rams against Tennessee in the Super Bowl was enough for the Rams to shock the world and come away with the franchise's first-ever Vince Lombardi trophy. Warner passed for a Super Bowl record 414 yards and two TDs, capturing the Super Bowl MVP award.
Two seasons later he found himself back in the same position––the Super Bowl. Falling a couple hundred yards shy of 5,000 yards (and 36 TDs) in the regular season, the Rams were once again the league's highest-scoring offense. Two straight home postseason victories over Green Bay and Philadelphia put the Rams up against the up-and-rising New England Patriots, led by a quarterback in a similar position as Warner from two seasons ago––Tom Brady.
Thanks to a game-winning scoring drive from Brady and the Pats, Warner fell just shy of a second championship, losing 20-17.
The next two seasons Warner battled numerous injuries and was basically forced out of St. Louis due to the up-and-coming signal caller Marc Bulger (put up 18-4 record during his first two seasons in STL, 2002-03).
It could be argued that Warner's legacy in St. Louis may be tarnished by the unproductive, injury-riddled final two seasons. During that time Warner went winless in his seven starts over those two seasons and the 32-year old was forced out by a younger guy who outperformed Kurt.
Two days after being released by the Rams in the off-season leading into the 2004 season, Warner signed a two-year deal with the Giants. His Giant career was short-lived, as he merely was there to help shape the rookie Eli Manning. In his nine starts that season, Warner was 5-4 and posted an 86.5 QB rating. It was thought that this was the end of the then-33-year old's career.
However, he was given one last chance by the Arizona Cardinals, signing a one-year, $4 million contract with them prior to 2005. It appeared as though he'd be doing exactly what he did in New York––mentoring a younger quarterback to take his spot. He did get a majority of the starts in his first season as a Cardinal, but the drafting of Matt Leinart in 2006 was a sign of what's to come for the Cardinals.
Warner started the season under center, but ended up starting just five games in '06 (1-5 record) and 11 games in '07 (5-6). It wasn't until the realization that Leinart wasn't likely to fully develop as the Cardinals starter that Warner received his one final shot at another championship: the improbable run of the 2008 Cardinals.
With the help from Pro Bowl wideouts Larry Fitzgerald (96 catches, 1,431 yards, 12 TD) and Anquan Boldin (89 catches, 1,038 yards, 11 TD), the Cardinal offense put up 30+ points on seven different occasions throughout the regular season, winning the NFC West with a 9-7 record. A huge underdog, much like he was throughout his 12-year career, Warner led the Cardinals to three consecutive playoff wins (30-24 over Atlanta, 33-13 over Carolina, 32-25 over Philadelphia) and a Super Bowl berth. The third of his career.
But, as the title of this article suggests, a heart-wrenching 27-23 loss to the Pittsburgh Steelers in Super Bowl XLVIII leaves Warner's career with a huge question mark.
Warner's career regular season record of 67-49 (9-4 in the postseason) is superb, but his career numbers leave him on the fence in terms of Hall of Fame-worthy:
116 starts, 65.5 comp %, 32,344 passing yards (29th all-time), 208 touchdowns (t-28th all-time), 128 interceptions, 93.7 QB rating, nine 4th-qtr comebacks, 14 game-winning drives.
It's tough to put a guy in the Hall of Fame based solely on just a handful of excellent seasons. The four-time Pro Bowler played just three complete seasons and had five seasons in which he posted a losing record as the team's starter.

His postseason numbers are a different story, and will certainly get the attention of voters:

13 starts, 9-4 record, 66.5 comp %, 3,952 passing yards (304.0/game), 31 touchdowns, 14 interceptions, 102.8 QB rating; six games with 300+ yards, nine multi-TD games, four games with rating over 100.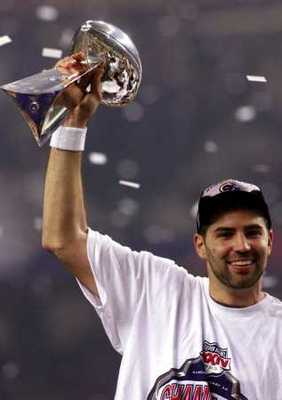 The two MVP awards and one Vince Lombardi trophy don't appear enough to put him in as a lock at this point in time. However, had he been able to pull off a Super Bowl victory in 2001 and 2008, I think it'd be enough to put him in.
It's also tough not to put a three-time Super Bowl champ in the Hall. This is exactly why the Warner/HOF debate is so tragic, because it may come down to just two games. Games in which he played greatly (365 passing yards and 2 combined TDs vs. New England; 377 yards and 3 TDs vs. Pittsburgh), but was unable to come out on top due to simply being outplayed. The Rams and Cards were outscored by a combined seven points in those two big games in '01 and '08.
There's still plenty of time to debate this, but looking at everything in perspective, Warner may end up needing some generosity coming from voters to find himself inducted into Canton.
What do the readers think: Hall of Fame, or no Hall of Fame?
Note: We do not own the above images. No copyright infringement intended.