Bernard "The Hitman" Pollard (his nickname will catch on soon enough) is now a Super Bowl champion after his Baltimore Ravens defeated the Niners. But I think it's safe to say that that isn't the way Pollard will be remembered.
Rather, he'll be remembered as his era's NFL hitman.
The 7-year strong safety has spent his time with three different teams, yet with each franchise he delivered devastating blows to opposing players leading to serious injury.
Pollard, 28, played two seasons of college ball at Purdue in '04 and '05. While there, he was dubbed the nickname "Bonecrusher" (you shouldn't have to ask why). During the 2005 season, Bonecrusher recorded 92 total tackles and picked off three passes.
Pollard hit the NFL after being drafted by the Kansas City Chiefs in the second round (54th overall) in the 2006 draft. He didn't make a single start as a rookie, but in 2007 he started 15 games at strong safety, recording 90 total tackles, 1 sack and 2 interceptions.
It wasn't until the 2008 season, however, when he became widely known around the league. In the first quarter of the first game of the season against the New England Patriots Pollard hit quarterback Tom Brady in the knee. Brady was taken out, missed the rest of the game and it was later determined that Brady tore his ACL and would miss the entire 2008 campaign.
Since then there have been numerous additional cases of Pollard knocking players out of games, most notably New England players. Yes, you may also refer to Pollard as a "Patriot Killer."
Pollard left the Chiefs after three seasons, signing with the Houston Texans in 2009. His two best seasons came with Houston, as he recorded 100+ tackles in each of the two seasons in spent in Houston. He also totaled four interceptions, 4.0 sacks and four forced fumbles in '09 and '10.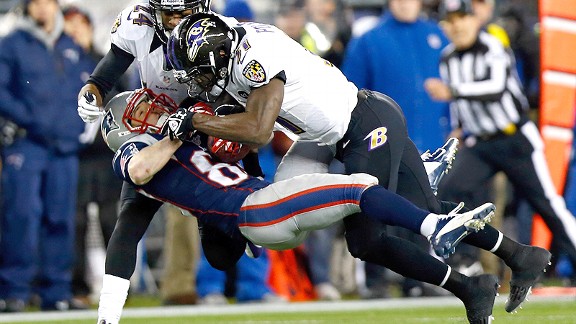 In the 2009 season finale against, you guessed it, New England, Pollard was in on the play that led to a torn ACL from Wes Welker. Pollard made the tackle as Welker's leg buckled underneath of him. As a result, Welker was done for the postseason and the Patriots ended up being one-and-done with a 33-14 loss to Baltimore a week later.
The 2011 and 2012 seasons were spent with the Baltimore Ravens where, once again, Bernard killed more Patriots. He began to get noticed as a great player while with the Texans, which continued in his two-year stint in Baltimore, but his big hits and bone-crushing tackles continued as well.
Last postseason, in the AFC Championship against the Pats, Pollard was responsible for spraining tight end Rob Gronkowski's ankle on a tackle. Gronkowski ended up playing in Super Bowl XLVI, but was limited by his injured ankle and the Patriots lost.
This past season he recorded 98 total tackles, 2 sacks and an interception in his 13 starts. He was fined $7,875 by the league in October for a Week 7 unnecessary roughness penalty against the Texans and $15,250 on January 30 for a hit on Wes Welker in the AFC Championship game. But the hit on Stevan Ridley late in the Championship game is what drew the most criticism as it knocked Ridley unconscious.
In the past two seasons Pollard has played in all six of the Ravens' postseason games (5-1 in those games) and prior to 2012 his two-year deal was extended for three more seasons. So it looks as if we could see plenty more from The Hitman in the next couple of seasons in Baltimore.
Note: We do not own the above images and videos. No copyright infringement intended.