With all this NFL draft talk, it's nice to take a break and have a little bit of fun. Why not?
If you're a regular reader then you already know how much I like to mess around with Whatifsports.com's SimMatchup, which is what I have used to replay all the games from this past season's playoffs.
There are plenty of teams (i.e. Falcons, Saints, Colts, Chiefs) that would do almost anything to get a second chance to prove they had a shot at hoisting the Lombardi trophy this season. It may be a little too early to look ahead to the 2011-2012 season considering whether the season will even exist is still in question.
So instead I re-simulated the matchups, and I will bring you the entire playoffs again, one round at a time.
First up? Wild Card weekend.
Saturday
Seahawks defeat Saints, 37-28
This comes as a bit of a shock to me. Not only did Seattle pull off a giant upset in real life, but in the replay they knocked off Drew Brees and his Saints as well. Maybe this wasn't as huge as we thought? Either way, Seattle sacked Brees four times and rookie Earl Thomas picked him off twice. Running back Chris Ivory's 92 yards and two rushing touchdowns weren't enough as Seattle out-gained New Orleans 428-393.
Jets defeat Colts, 30-6
Mark Sanchez not only manages this game, but he also out-performs counterpart Peyton Manning, leading his offense to a 30-point performance. Manning is sacked six times and picked three times as New York's top-tier defense keeps the pressure on him all game long. Two first quarter scores gets the Jets going, and they never looked back. In the actual game back in January, Sanchez looked a little shaky at times, making a couple of mental mistakes. But in the replay he was as poised as a four-time Super Bowl champion quarterback.
Sunday
Ravens defeat Chiefs, 17-10
Whatifsports is now three-for-three in predictions, as Baltimore had a tougher time putting the ball in the end zone in the replay, but got the job done nonetheless. Believe it or not, the two defenses didn't have as much of an affect on the outcome as expected. The two combined for just one quarterback sack (KC's Tamba Hali) and zero turnovers. Anquan Boldin's big day for Baltimore (4 Rec., 92 yards, TD) ended up being the deciding factor.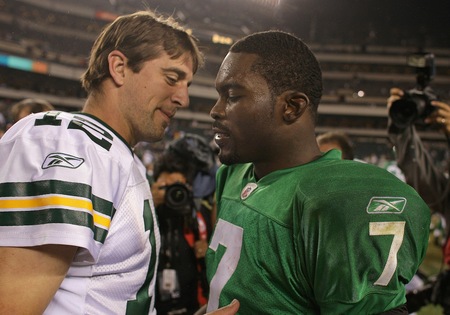 Eagles defeat Packers, 27-9
Good news, folks. Whatifsports didn't produce a completely boring first round simulation. In fact, we already know we will end up with a different champion as the Packers have fallen to Michael Vick's Eagles. This would, of course, mean that Aaron Rodgers wont put up Super Bowl MVP numbers throughout the playoffs (21-32, 223 yards, 0 TD, 1 INT in replay), and Michael Vick (18-21, 145 pass yards, 1 INT; 8 rush attempts, 50 yards, 1 TD in replay) stole the show in front of the home crowd.
Michael Vick very well may end up being the star of my 2010-11 NFL playoffs replay.
Divisional weekend coming soon!
Photos: borrowed from Google, no copyright infringement intended