The draft is right around the corner (April 28-30), and I finally finished my mock draft so I thought I would share it with the football world. Let's pretend we aren't currently in the middle of an NFL lockout, even if just for today.
1. Carolina Panthers--Cam Newton, QB
It seems that Carolina has already given up on last year's second round pick (48th overall) Jimmy Clausen, who posted 58.4 rating with nine interceptions in 10 starts. All rumors seem to be pointing towards this move for Carolina, rather than taking a shot at defensive tackle. Newton's attributes off-the-field seem to give him the edge as top quarterback, rather than Gabbert.
Team needs: QB, DT, WR, CB
Other potential picks: Marcell Dareus
2. Denver Broncos--Marcell Dareus, DT
With Justin Bannan and Jamal Williams both gone, it looks like Denver will be a little short on the defensive line unless they take a D-tackle early. At this point it's between Dareus and Auburn's Nick Fairley, and Dareus' upside is a little better than Fairley's though you can't go wrong with either of these guys.
Team needs: DT, CB, SS, LB, RT, DE
Other potential picks: Nick Fairley, Patrick Peterson
3. Buffalo Bills--Von Miller, LB
With Andrew Luck entering the draft next season, don't be surprised if they pass on Blaine Gabbert and wait until 2012 for their next franchise quarterback. Getting to the opposing quarterback is nearly as important as protecting your own, so that's why I believe they will take Miller, who had 10.5 sacks last season and 17 in 2009.
Team needs: QB, WR, TE, LT, DL, LB
Other potential picks: Tyron Smith, Da'Quan Bowers, Robert Quinn
4. Cincinnati Bengals--Nick Fairley, DT
Still doing all they can to keep Carson Palmer, the Bengals will likely focus more on bringing in weapons for Palmer and getting to the ball carrier in the backfield (19th against run last year). Fairley's 6-4, 298-pound frame and 4.9 speed gives the Bengals a legitimate run-stopper up front, and will free up the guys around him.
Team needs: QB, RB, WR, DL, LB
Other potential picks: Da'Quan Bowers, Julio Jones
5. Arizona Cardinals--Blaine Gabbert, QB
Arizona needs a constant, franchise quarterback. And quick. Derek Anderson and John Skelton just will not do. Gabbert seems to have what it takes to get the job done, and since they passed on bringing in Kevin Kolb from Philly, this seems to be the logical pick at No. 5. Now they just need to find him some protection.
Team needs: QB, G, LT, LB, CB
Other potential picks: Tyron Smith, Mike Pouncey
6. Cleveland Browns--Julio Jones, WR
This would be an easy pick for me if I was in Cleveland's front office. Jones has the best combination of size and speed (6-3, 220 pounds, 4.3 speed) of any other receivers in this year's class. And obviously Cleveland has needed a No. 1 receiver for a while now. Colt McCoy sure would love some help on the offensive side of the ball.
Team needs: WR, G, OT, DT/DE, CB
Other potential picks: A.J. Green
7. San Francisco 49ers--Patrick Peterson, CB
With the recent news that Jim Harbaugh wants to keep Alex Smith for another season at least, it looks like there isn't any question that the 49ers will be looking to improve on defense. Considering Peterson is known to be one of the best players available in the entire draft, of course San Fran won't hesitate to snag him at No. 7, he has great size (6-0, 219) for a corner. Not to mention his 4.3 speed as well.
Team needs: DE, LB, CB
8. Tennessee Titans--Da'Quan Bowers, DE
Technically speaking, quarterback is in fact a need for Tennessee since Vince Young likely wont ever put on a Titan uniform again, but with Newton and Gabbert both off the board I doubt they will be looking to add one via the draft. Instead I believe they will think having Bowers drop to them at No. 8 is a godsend, and quickly snatch him off the board. Bowers' 15.5 sacks will surely complement the other young Tennessee D-end Derrick Morgan rather nicely.
Team needs: QB, G, C,
DE,
LB
Other potential picks: Mike Pouncey
9. Dallas Cowboys--Prince Amukamara, CB
With an aging Terence Newman and a lazy Mike Jenkins currently making of the Cowboys' corner duo, adding Nebraska's Amukamara, who possesses 4.38 speed, will be a blessing for Dallas. Dallas was 26th against the pass last season, allowing a league-high 33 touchdowns through the air (tied for first with Houston). They will take any help they can get against the pass, as you can see.
Team needs: G, OT,
CB
, FS/SS
Other potential picks: Tyron Smith, Anthony Castonzo
10. Washington Redskins--Mark Ingram, RB
Jake Locker is the best quarterback available, and I think it would be a bit of a reach to take him with the 10th pick, meaning an improvement at the running back position is likely. Ingram is the best back in the draft, and his agility and quickness should greatly help Washington's running game that ranked 30th overall last season. The loss of veteran Clinton Portis (cut this off-season) may have been a sign that they want to improve via the draft.
Team needs: QB,
RB
, WR, LB, CB
Other potential picks: A.J. Green
11. Houston Texans--Robert Quinn, DE
With many of Houston's interests already off the board (Miller, Peterson, Bowers etc.), the Texans were forced to settle with only the second-best pass-rushing defensive end, Quinn, from the University of North Carolina. Of course, at the 11th overall pick, having to settle for only the second-best is a very good problem. Quinn's size and agility is a huge plus, and will complement their 2006 first overall pick Mario Williams as the two anchors on both sides of the defensive line.

Team needs: DL, LB, FS
Other potential picks: Akeem Ayers, Ryan Kerrigan


12. Minnesota Vikings--Jake Locker, QB
The Minnesota Vikings and head coach Leslie Frazier know they are in dire need of a franchise quarterback, and having already shown interest in bringing in Locker out of Washington, I have a feeling that this will be the direction they take. I'm sure they'd love to have Newton or Gabbert, but will have to settle for Locker with the 12th pick.
Team needs:
QB
, OT, OLB, CB, S
Other potential picks: Akeem Ayers
13. Detroit Lions--Jimmy Smith, CB
Detroit was spot-on with their first round pick last year (DT Ndamukong Suh from Nebraska) and with their franchise quarterback in place with an All-Pro wideout in Calvin Johnson. Improving the cornerback position with Smith would be a huge move and will help stop the two explosive in-division passing attacks (Green Bay and Chicago). Nathan Vasher and Chris Houston (acquired last season) could really use a little help.
Team needs: OT,
CB
, S
Other potential picks: Anthony Castonzo
14. St. Louis Rams--A.J. Green, WR
St. Louis needs help on defense, but what they really need is to get Sam Bradford some help in the passing game. Danny Amendola seems to be the only guy who can do some damage catching passes for the Rams, other than Pro Bowl running back Steven Jackson, of course. Having Green fall all the way to St. Louis at No. 14 is a blessing for the Rams.
Team needs:
WR
, DE, DT
Other potential picks: Cameron Jordan, Ryan Kerrigan
15. Miami Dolphins--Ryan Mallett, QB
Minnesota snagged Locker three picks earlier, but Miami needs a quarterback so badly that they will likely make Mallett the fourth quarterback taken throughout the first 15 picks. Almost halfway through round one and Newton, Gabbert, Locker and Mallett are all off the board. Mallett will hopefully walk in to training camp and prove to Miami and the rest of us that he should be the starter rather than the inconsistent Chad Henne.
Team needs:
QB
, RB, WR, OL, S
Other potential picks: Mike Pouncey
16. Jacksonville Jaguars--Aldon Smith, LB/DE

With the versatile Aldon Smith in Jacksonville's arsenal of weapons on the defensive side of the ball, the Jags should see their 28th-ranked pass defense improve in 2011. Smith isn't the quickest off the line, but will be able to use his speed and stout pass rush techniques to defeat NFL offensive tackles. He can also be utilized as both an outside linebacker and D-end if need be.

Team needs: WR, DE, LB, CB, FS/SS
Other potential picks: Torrey Smith


17. New England Patriots (from Oakland)--Akeem Ayers, LB

With two first round picks in the draft this year, the Patriots will be able to improve in more than one facet of their game with first round talent. It's no secret that New England's biggest need this off-season has to do with the defensive side. Ranked 30th against the pass last season, drafting Ayers--a solid coverage linebacker--will help solidify the outside linebacker position on an aging roster. I'm almost surprised that he was still available at the 17th pick, and I'm sure Belichick would be too if he saw him on the board this late.

Team needs: WR, OG, DE, LB
Other potential picks: Mike Pouncey


18. San Diego Chargers--Cameron Jordan, DE
Looking for a playmaking talent coming off the edge alongside Luis Castillo, I think this would be a great fit. San Diego has lacked a big-name, headline-maker at the defensive end position for a while now, and this will greatly improve an already outstanding pass defense (led league in overall pass defense and sacks last season).

Team needs: DE, LB, FS/SS
Other potential picks: Ryan Kerrigan


19. New York Giants--Martez Wilson-ILB
Some have him projected for the second round, but I think he's one of the guys who will be taken earlier than everyone expects. Wilson, at 250 pounds, has 4.5 speed and has been known to cover receivers far downfield. I wouldn't be surprised if he turned in to an NFL playmaker, and that's exactly what the Giants have been looking for in a linebacker.
Team needs: RB, OL,
LB
, CB
Other potential picks: Brandon Harris
20. Tampa Bay Buccaneers--Ryan Kerrigan, DE

The fifth defensive end taken through the first 20 picks, Kerrigan is known as the best tackler out of the entire defensive end draft class. With only 26 sacks last season, Kerrigan's 33.5 career sacks at Purdue (tied for school record) will be a welcome addition as well. He can play on both sides of the defensive line and is known as a hustle pass-rusher. What stands out most to me is his 14 career forced fumbles--a Big Ten record.

Team needs: OL, DE, LB
Other potential picks: Gabe Carimi


21. Kansas City Chiefs--Anthony Castonzo, OT
Best offensive tackle in the draft, taking Castonzo from Boston College will help answer any questions about Kansas City's aging offensive line that anybody happens to have entering the draft. They would have loved to take Torrey Smith at receiver, I'm sure. But helping keep Matt Cassel safe and sound behind a solidified offensive line is more important to the Chiefs at the point. Vincent Jackson and Sidney Rice are always available via trade if they decide they need someone to complement Dwayne Bowe later on.

Team needs: WR, OL, DT
Other potential picks: Torrey Smith, Phil Taylor


22. Indianapolis Colts--Tyron Smith, OT
Two offensive tackles being taken in back-to-back picks, Indianapolis also has some questions involving the blindside, and with Smith being a top prospect at tackle as well, Indy can't go wrong with providing protection for their future Hall of Fame quarterback. Instead of trying to nab Manning's successor, it would be a smart move for Irsay to keep him protected until the day he retires.

Team needs: RB, WR, OL, DB
Other potential picks: Brandon Harris, Torrey Smith


23. Philadelphia Eagles--Brandon Harris, CB

With plenty of help at the corner position needed, Andy Reid and Co. wont hesitate to grab Harris off the board at pick 23. Though projected by most as a first round talent, there still is a bit of a risk with Harris, but his strong ability to cover in man-to-man situations should trump all that is wrong with Harris, which, to tell you the truth isn't all that much. He will complement Pro Bowl corner Asante Samuel vey well in Philly.

Team needs: DE, LB, CB, S
Other potential picks: Nate Solder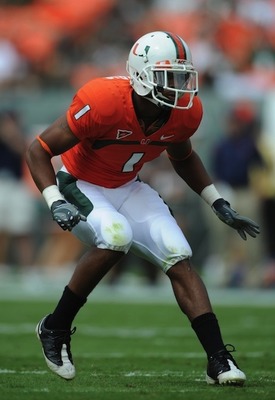 24. New Orleans Saints--Phil Taylor, DT
Looking for a big, powerful man to plug up holes up front, Taylor's 6-4, 337 pound frame seems to fit the description best. The one-year signing of Shaun Rogers tells me they were only counting on getting production from him for a single season, and Sedrick Ellis could really use some help anyways. Good pick here for New Orleans.

Team needs: DT, LB, S
Other potential picks:


25. Seattle Seahawks--Mike Pouncey, OG
Drafting offensive tackle Russell Okung in last year's draft was one of (then) new head coach Pete Carroll's first moves as head coach, and it was a good step in the right direction for a team that was looking to rebuild. Taking guard Pouncey with their first pick in this year's draft would be yet another step in the right direction as they try to put together a solid, young line to protect the veteran Matt Hasselbeck.

Team needs: WR, OG, DE, CB
Other potential picks: Torrey Smith


26. Baltimore Ravens--Torrey Smith, WR
Baltimore could use some help on the offensive line, but it looks like they will have to settle for help in stretching opposing secondaries downfield with their newest deep threat. Smith had one of the fastest 40 times of all the receivers. At 6-1, he isn't as tall as other top WR prospects such as Jones (6-4), Green (6-4) and Pitt Panthers' Jon Baldwin (6-5) but Smith burst off the snap and solid hands should complement his speed very well and allow him to successfully transition into the NFL.

Many seem to believe that running back is one of Atlanta's most-needed positions. While I do believe they could use a young running back to complement the bruising 29-year old Turner, I also believe that finding a young talent to aid John Abraham in the defensive end department is a bigger need. Watt is both a threat to the quarterback in pass rushing situations, and getting to the running back when he decides to bounce outside. Watt's 6-6, 292 pound body allows him to be agile, and he is very quick off the snap. I would even go as far as to compare him to Abraham.

Team needs: RB, WR, DE
Other potential picks: Jon Baldwin, Cameron Heyward


28. New England Patriots--Jon Baldwin, WR
Baldwin has a lot of upside, and since New England also has the first pick in the second round (from Carolina), they can afford to wait a couple of picks to upgrade the guard (likely with Florida State's Hudson) or running back positions (likely with Illinois' LeShoure). Wes Welker obviously gives Tom Brady a guy to throw short, precise slant routes to, but having a 6-5 receiver who can, despite his lanky frame, get off the line rather quickly and burn opposing DBs deep down the field would help this already top-notch offense tremendously.

Team needs: RB, WR, OG, DE, LB
Other potential picks: Rodney Hudson, Mikel LeShoure


29. Chicago Bears--Nate Solder, OT
Chicago would love to draft Corey Liuget, defensive tackle from Illinois, but it would be very idiotic to pass on Solder, who probably shouldn't even still be on the board at No. 29. It's rather obvious that offensive line is Chicago's biggest off-season need, especially when you consider the fact that Chicago allowed a league-high 56 times in 2010, and gained the 22nd-highest yards on the ground (1,616). It all starts up front, and having a guy of Solder's length and pass-blocking ability would be just lovely in Chicago. I know Jay Cutler would welcome him with open arms.
Team needs:
OL
, DT
Other potential picks: Corey Liuget, Stephen Paea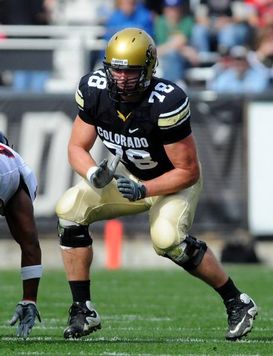 30. New York Jets--Corey Liuget, DT
New York's main need on defense may not be at the tackle position, rather the end. But with the best available at D-tackle, and slim pickings in the DE/LB positions when it comes to first round talent, I think taking Liuget is the best move. He's really tough to beat one-on-one in passing situations according to his scouting reports, and against the run he is able to penetrate the backfield with aggressiveness and flat-out quickness. Any team would love to add a guy of his ability to plug up the middle of the line.
Team needs: WR, OT, DE,
DT
, LB
Other potential picks: Justin Houston
31. Pittsburgh Steelers--Derek Sherrod, OT
We all know as well Ben Roethlisberger that he needs all the protection he can get, and with injuries and age further depleting the offensive line, adding a pair of fresh legs in to the mix would do wonders. Sherrod has great lateral agility and balance, and has great reaction time, which is very important since defensive ends seem to get bigger and faster with each passing year. Isn't the best run blocker, but his physicality and brutal size (6-6, 312) make up for it. His 5.22 40 time is pretty quick considering his size, too.

Team needs: OT, DL, CB, S
Other potential picks: Davon House


32. Green Bay Packers--Cameron Heyward, DE
Heyward, the last pick in the opening round, marks the sixth defensive end taken in the 2011 draft. If I was to give this year's D-end class a grade A-F, I wouldn't hesitate to give it an A+, that's how deep it is. Heyward, the sith-best end in the draft, uses his size ( 6-5, 285) to his advantage to shed off blockers and can get to the quarterback no matter where he's lining up. With both current defensive ends 30 or older, Green Bay could really use some young legs to freshen things up on the line.
Team needs: OG, LB,
DE
Other potential picks: Rodney Hudson
Recap:
Overall, I think these picks seem pretty accurate, though I am kind of shocked I let guys like Stephen Paea, Gabe Carimi, Mikel LeShoure and Kyle Randolph last until the second round, while a few projected for the second round such as Jon Baldwin, Martez Wilson and Cameron Heyward were snatched up.
It's tough to project the draft in any given year, and I just took it one pick at a time, so who knows what will happen once next Thursday rolls around.
**Other players that could potentially be taken in the first round:
Paea, Carimi, LeShoure, Randolph, Titus Young, Rodney Hudson, Stefen Wisniewski, Greg Jones, Justin Houston, Aaron Williams, Quinton Carter
**Potential first round risers: Patrick Peterson, A.J. Green, Tyron Smith, Torrey Smith
**Potential first round fallers: Cam Newton, Mark Ingram, Jake Locker, Martez Wilson, Brandon Harris
How'd I do? Comments in regards to anything from my picks, your opinions on who will take who and anything about the prospects is highly recommended.
Photo credits
Von Miller: Aaron M. Sprecher/Getty Images
Patrick Peterson: found on nfltouchdown.com
Mark Ingram: found on sportsnola.com
Ryan Mallett: found on collegesportsfeed.com
Martez Wilson: found on thesportsbank.net
Brandon Harris: found on Google
Torrey Smith: found on thenationfootballpost.com
Nate Solder: found on nationalfootballpost.com