Editor's Note: This is a special to All-Out Blitz, and written by Brynn Alexander following the end of the February scouting combine.
Anyone who's ever been to a job interview is familiar with the concept of "illegal questions," i.e. questions that cannot be asked of an interviewee. Generally these are questions of a personal nature that aren't relevant to whether or not the applicant can perform the duties of the job, and of course the applicant should not be expected to answer them.
Colorado tight end Nick Kasa was therefore a little bit taken aback when he attended the
NFL scouting combine in Indianapolis at the end of February, as he claims he was asked questions that indicated to him that the scouts from certain teams (or perhaps just one team in particular) wanted to know whether he was gay.
Kasa says that amidst questions about his athletic experience and his attitude toward sports, he was also asked questions about whether or not he was married, whether he had a girlfriend, and, most tellingly, whether he liked girls in general. Kasa was surprised by the questions, and said that the entire interviewing experience was quite surreal.
After Kasa came forward with his allegations,
Michigan State running back Le'Veon Bell came forward to corroborate Kasa's statement. Bell says he had a similar experience, and that there were definitely scouts enquiring in a roundabout way about
sexual orientation
, with some questions more overt than others.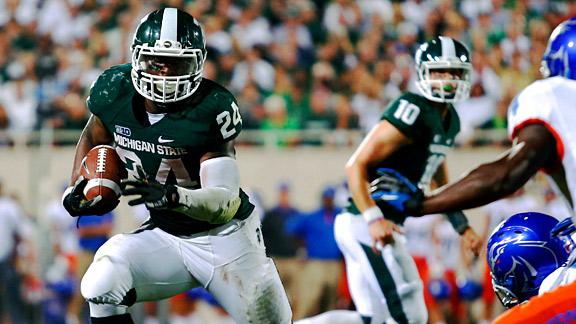 Bell, though, defended the interviewing process, saying that he thought the questions were just part of a bigger plan to determine whether players were mentally strong enough to handle the more public aspects of life in the NFL, where reporters can ask very personal questions and catch players off guard. Bell says he thinks that teams are looking for players that can keep their cool under questioning, even when the questions get awkward or deeply personal.
Regardless if the aim of the scouts was innocent, the NFL is taking Kasa's claims seriously, and has promised to open an investigation to find out which teams were asking about sexual orientation, and why. As a spokesman for the NFL pointed out, "teams are expected to follow applicable federal, state and local employment laws. It is league policy to neither consider nor inquire about sexual orientation in the hiring process. In addition, there are specific protections in our collective bargaining agreement with the players that prohibit discrimination against any player, including on the basis of sexual orientation."
The NFL has stated that if any scouts are inquiring about players' sexual orientation, directly or indirectly, the team in question is subject to discipline. There's been no word on how long they expect the investigation to take, but it's probably safe to say that scouts are going to be on their best behavior after this incident, and that some teams are going to be heavily revising their interview process.
Note: We do not own the above image. No copyright infringement intended.