The new league year begins on March 12, meaning we're right around the corner from the free agency period. Unlike this year's draft, there are plenty of options on offense (and defense as well), for teams looking to make quick improvements heading into April.
We've broken down the top free agents into two parts––offense and defense. Here are the top guys available by position on the offensive side of the ball, in addition to possible destinations for the 2013 season and beyond..
Quarterback: Joe Flacco, Baltimore
The quarterback free agent class is very top-heavy, and there really aren't going to be too many guys out there that teams such as Arizona and Jacksonville to make a move on. Why do you think the Chiefs acquired Smith? We all know Flacco will be staying in Baltimore and getting that long-term contract he's been lobbying for, but he's still up for grabs for other teams (such as Cleveland) to attempt to steal him, in case Baltimore doesn't want to match what Flacco wants.
But if a deal isn't reached before March 12, I wouldn't be surprised to see him get hit with the franchise tag so that they have more time to reach a deal. Bottom line here: Flacco will remain in Baltimore, leaving Matt Moore the best remaining quarterback on the market.
Others available: Moore (MIA), Jason Campbell (CHI), Josh Johnson (TB), Drew Stanton (IND), Charlie Batch (PIT), Rex Grossman (WAS).
Running back: Steven Jackson, St. Louis
The Rams allowed Jackson, 29, to void the final year of his contract and hit the free agency market on March 12. This easily puts him atop the list of available running backs despite Atlanta's release of Michael Turner earlier today. There's no way Jackson will change his mind and return to the Rams, he clearly wants out. There are several teams that could show interest and make a move for Jackson, including New York (Giants), Green Bay, Detroit, Indianapolis and Pittsburgh.
Though the three-time Pro Bowler has scored double digit TDs just one time in his nine-year career (2006), Jackson has broken the 1,000 yard barrier in each of the last eight seasons. He has still shown that he's got the explosiveness of a No. 1 back in this league, and could give a team another 2-3 solid years. I'd expect to see Jackson the first RB to find a new team, and for one of the aforementioned teams to land him for 2013.
Best of the Rest:
Michael Turner, Atlanta––The Falcons made the decision to release the 31-year old Turner, who averaged just 3.6 yards per carry this season. Though he's clearly on the downfall of his career, Turner has still run for 10+ TDs in each of the past five seasons and will make for a great 3rd down back for a team looking to add a proven vet to their offense.
Ahmad Bradshaw, New York (Giants)––The Giants decided not to keep the injury-prone Bradshaw (smart move), meaning he'll hit the market and will be in a new uniform come September. It's clear he can no longer carry the full-load, but like Turner, the 26-year old could team up and make for a great second option coming out of the backfield.
Reggie Bush, Miami––Bush appeared to be nothing more than a solid return man while in New Orleans, but in his past two seasons with the Dolphins Bush has revamped his career. He ran for 2,090 yards and 17 TDs in five seasons with the Saints, but in just two years in Miami he's broken out for 2,072 yards and 12 TDs. Quite the turn-around, huh? I'm expecting to see Miami bring Bush back for more in 2013.
Shonn Greene, New York (Jets)––The explosive, 235 pound Greene appears to be turning things around over the past two seasons, but if I'm the Jets I want to bring in fresh legs. They need to enter rebuilding mode and completely change things up. I don't think they'll bring Greene back and he'll, like Bradshaw, be playing somewhere outside of New York in 2013.
Others available: Rashard Mendenhall (PIT), Felix Jones (DAL), Cedric Benson (GB), Peyton Hillis (KC), Danny Woodhead (NE).
Wide Receiver: Mike Wallace, Pittsburgh
Personally I believe that Greg Jennings, not Wallace, is the top wideout name in the free agency pool. But, considering the position we're in, Wallace will generate the most buzz. Jennings is expected to remain in Green Bay, but I don't see Wallace sticking in Pittsburgh. Wallace wants "Larry Fitzgerald-type" money and the Steelers aren't going to give him that. The only way they'd be able to keep him for '13 would be if they used the franchise tag on him, and that's out of the question. Ben Roethlisberger was forced to restructure his contract to save $6M in cap room, and with Antonio Brown's mega deal, the Steelers don't have the money for Wallace.
The biggest deep threat in the league will hit the market, though his 2012 performance will likely hurt his free agency stock. Either way, some team out there will be willing to pay him the big bucks...and it wont be Pittsburgh.
Best of the Rest:
Greg Jennings, Green Bay––Like I said, Jennings wants to get paid..especially after Vincent Jackson's 5-year $55M deal last off-season. There's still a chance that the Pack could give him the franchise tag, but I don't think that'll go over too well with Jennings (he's already said returning to Green Bay under the tag would be "unwelcome"). But whether he's tagged or not, Jennings will return to Lambeau in 2013.
Dwayne Bowe, Kansas City––With the Chiefs in rebuilding mode and Bowe due a big-time payday, I don't see him returning to Kansas City. The only thing he's got going for him is he's got an upgrade at the quarterback position. But if he goes elsewhere there's a chance he could not only get a big-time contract, but also have a much better team around him. I'd expect him to look elsewhere later this month.
Wes Welker, New England––This is a sticky situation in Foxboro. Welker, 32, played under the franchise tag this past season. If the Pats weren't ready to give Welker a long-term deal last season, what makes you think they will be ready to with another season under his belt. His productiveness now has a number on it, and there's no guarantee that he'll be a Patriot next season. Plus Tom Brady has proven throughout his career that he can perform at a high level no matter who is lining up at wide receiver. Looks like Welker will be forced to test the waters.
Others available: Brian Hartline (MIA), Danny Amendola (STL), Jerome Simpson (MIN), Randy Moss (SF), Julian Edelman (NE), Donnie Avery (IND), Kevin Ogletree (DAL).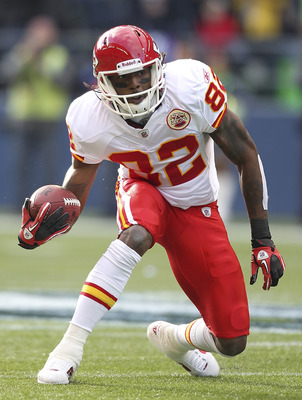 Tight End: Tony Gonzalez, Atlanta
Retirement still isn't out of the question for the 37-year old future Hall of Famer––and best receiving tight end this league has ever seen. In fact, I got the feeling that he'd retire once he finally got that playoff victory. But with no sign of slowing down (93 catches, 930 yards, 8 TDs for Atlanta in 2012), I guess we shouldn't be surprised to see Gonzalez stick around.
But if Tony and the Falcons don't agree on a contract, I don't see him going somewhere else to play. It's either Atlanta or retirement. If the Falcons make a couple moves and have a solid draft, I think it'd be enough to force Gonzalez to return for one last ride in 2013.
Others available: Fred Davis (WAS), Martellus Bennett (NYG), Dustin Keller (NYJ), Jared Cook (TEN), Dallas Clark (TB), Delanie Walker (SF).
Offensive Line: Jake Long, Miami
Long, 27, is perhaps the biggest free agent name among offensive lineman, considering Denver recently placed the franchise tag on tackle Ryan Clady. Clady hasn't missed a start in his five-year career with the Broncos, and has been selected to three Pro Bowls. The 6'7"/315 pound Miami tackle has been nearly as productive, missing just six starts with four Pro Bowls. Reportedly the Dolphins have made Long several offers this off-season, but he has turned down every one of them. Long was quoted by NFL.com earlier this off-season, saying "whether or not I stay on Dolphins is 'on them.'"
That said, it's likely he'll remain a Dolphin given that the demands aren't too much for Miami. With Will Beatty recently signing a 5-year, $38.75M deal, it's likely Long wont settle for anything under $8 million per year, possibly even as much as a deal that gives him $10 million per season. Hefty price.
Up Next: Part 2--Top Defensive Free Agents
Note: We do not own the above images. No copyright infringement intended.