"What's that, playoffs?! Don't talk about playoffs, you kidding me, playoffs?!"
Thanks to the famous words of Jim Mora, I can bring to you the official 2011 playoffs preview. In my AFC and NFC season preview I picked division winners and wild card contenders. But as far as who will be making the playoff runs and beat out the rest for a Super Bowl appearance? That's coming up.
6 New York Jets @ 3 San Diego Chargers
Norv Turner brought his Bolts back to the playoffs with an AFC West title and third seed in the playoffs, yet was still not the best team on the field in San Diego. Rex Ryan's Jets were too much for Shaun Phillips and SD's defense as Mark Sanchez and New York's offense puts up 31 points.
NYJ 31-17
5 Baltimore Ravens @ 4 Houston Texans
Matt Schaub, Arian Foster and Andre Johnson led the way for the third highest scoring team in the league this season as the Texans captured the franchise's first winning season, division title and playoff appearance. However, Ray Lewis and Co. were too much for Houston's high-powered O, forcing three Schaub mistakes in the first round victory.
BAL 28-14
6 Dallas Cowboys @ 3 Green Bay Packers
Tony Romo is back! Despite the huge season from Romo (my pick for Comeback Player of the Year), the Cowboys fell short in the postseason yet again, getting knocked off by the defending champs.
GB 38-28
5 Tampa Bay Buccaneers @ 4 St. Louis Rams
Tampa is young and hungry–"youngry"–and Raheem Morris' mindset paid off against the West's champion St. Louis Rams in this first round matchup. Ronde Barber's defensive unit was too much for the second-year signal caller Sam Bradford in the Rams' dome.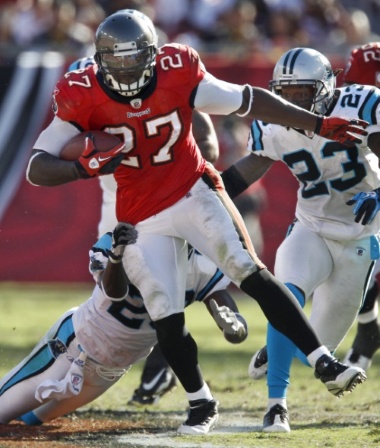 TB 21-10
6 New York Jets @ 1 New England Patriots
A rematch of last season's divisional matchup between the three-time Super Bowl champion Tom Brady and GQ's cover boy Mark Sanchez. Sanchez and the Jets are looking to make a third straight AFC Championship appearance, until Brady and his boys came and spoiled it.
NE 28-17
5 Baltimore Ravens @ 2 Pittsburgh Steelers
Yet another divisional matchup between these two teams, second straight. As much as I'd love to believe that Baltimore finally stepped up its game against Pittsburgh in the playoffs, it's just not going to happen this season...again. Pittsburgh–safety Troy Polamalu in particular–owns Baltimore's Joe Flacco.
PIT 24-14
6 Dallas Cowboys @ 1 Atlanta Falcons
Another can happen, right? Right. That's exactly why I'm picking the Falcons to fall in their first game of the postseason for a second straight season. I'd love to see "Matty Ice" have a breakout performance in the playoffs, but Romo's Boys are poised for another solid game.
DAL 34-21
5 Tampa Bay Buccaneers @ 2 Philadelphia Eagles
Tampa is youngry! But Michael Vick and his Eagles were on fire all season, there's no way they let a couple of Buccaneers get in their way of the Super Bowl this season. Vick runs all over the Bucs en route to a convincing victory.
PHI 38-17
2 Pittsburgh Steelers @ 1 New England Patriots
New England got the best of the Steelers the last time these two played for the AFC Championship, and I believe it will happen again. Brady is still at his best, and this could be the last year that he's at the very top of his game.
NE 35-24
6 Dallas Cowboys @ 2 Philadelphia Eagles
Another year, another Cowboys failure. Despite reaching the NFC Championship, we can deem this season of Romo and Dallas' a failure, because they fell short of the Super Bowl thanks to NFC East counterpart Philadelphia.
PHI 31-21
Road to Indy:
2 Philadelphia Eagles vs. 1 New England Patriots
Ah, a rematch of the 2004 Super Bowl XXXIX, in which New England defeated Philadelphia 24-21. Unfortunately I believe the same thing will happen. Not the exact score, but the Patriots 2000s "dynasty" is overdue another championship. Welker wins the MVP that he's been waiting for all these years.
NE 28-14
MVP: Aaron Rodgers
Best quarterback: Aaron Rodgers
Best running back: Adrian Peterson
Best wide receiver: Larry Fitzgerald
Best tight end: Jason Witten
Best offensive lineman: Maurkice Pouncey
Best defensive lineman: Ndamukong Suh
Best linebacker: Patrick Willis
Offensive Player of the Year: Aaron Rodgers
Defensive Player of the Year: Patrick Willis
Offensive Rookie of the Year: Julio Jones
Defensive Rookie of the Year: Von Miller
Comeback Player of the Year: Tony Romo
Breakout Player of the Year: Colt McCoy/LeGarrette Blount
Best player on new team: Nnamdi Asomugha
Coach of the Year: Gary Kubiak
Note: photos found on Google, no copyright infringement intended