Yesterday it has been revealed that Indianapolis may be without All Pro, future Hall of Fame quarterback Peyton Manning for week one of the regular season.
Manning himself–freshly re-signed to a new five-year, $90 million contract–has ruled out the possibility of playing in the two remaining preseason games, and Colts' owner Jim Irsay tweeted that the team must prepare to play the first game of the season without him.
Of course, this doesn't necessarily mean he will not be suiting up for his 209th consecutive regular season start come September 11, but with Manning still in the rehab process after his neck surgery, things certainly aren't looking too great in Indy.
Manning, 35, was just locked up for another five years, and it doesn't even look like he will be 100 percent for this coming season.
The end of the road is near for the four-time league MVP, and Indy was forced to spend a fortune on keeping him in a blue and white uni for the rest of his career, rather than spend that extra cash on adding offensive weapons and defensive firepower to improve the overall team.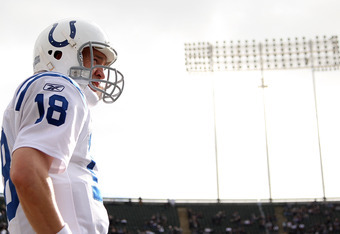 It's an ugly situation for the franchise, and a lose-lose for Irsay and his employees. Irsay owed this money to Manning after all he did for the franchise, but I think they are giving it to him just a bit too late.
What makes the Manning neck surgery worse? Probably the rest of the quarterback depth chart, which consists of veteran Dan Orlovsky (former Detroit Lions quarterback) and Curtis Painter. Of the two reserves, only Orlovsky has made an NFL start at quarterback.
Obviously experience is a huge weakness in Indy's depth chart, Painter has played in just two career games (went 8/28 for 83 yards and two INTs with a 9.8 QB rating during 2009 season), and Orlovsky hasn't made a start since the 2008 season with the Lions.
Six days ago the team waived 24-year old Nate Davis, who was drafted by the 49ers in the fifth round of the 2009 NFL draft, and was later waived. Painter is the No. 2 guy as of right now, but if I were Irsay, I would go after a veteran free agent in case they need a Peyton replacement.
Irsay has been active on twitter trying to ask for advice from his fans. Why he's doing this, I'm not so sure but one thing he said a couple of days ago hinted towards the idea that he may go after a vet, like I just proposed:
"Not taking Pryor....what VET QB would u vote 4 to sign that's out there? If sum1 has 2 hold the fort early season,who u going with?"
Even if Manning does decide before the two weeks of the preseason are up, signing a capable backup would benefit the Colts greatly. Neck surgery is a big deal and if Manning gets hit hard enough he could miss some time with a more serious injury.
Available Free Agent QBs:
*Jake Delhomme...he's seen better days, and embarrassed himself in Cleveland, but would be a very cheap option.
*Chad Pennington...I would love to see Indy sign Pennington. He's the same age as Manning and has a career rating of 90.1, not a bad rep if you ask me.
*Troy Smith....if Irsay happens to be interested in adding some speed at the position, something they obviously haven't had in years, then Smith would be another cheap option and an upgrade over Painter.
*JaMarcus Russell....just kidding, I don't think anyone will sign Russell anytime soon.
The only other option for the Colts would be to acquire a solid reserve from another team via trade. They can't afford to give too much up, though. We'll have to wait and see if Irsay decides to make a move or not in the coming weeks. If I were running this franchise, I would act as quickly as possible, but maybe that's just me.
Photo found on Google, no copyright infringement intended