The most recent news story in the college football world that has surfaced is a Yahoo! Sports report that has listed several former football players at the University of Miami (Fl.) that allegedly received illegal benefits while playing football at the institute.
Now, I'm not going to go in great detail, because frankly I don't really care all that much. But I am going to give my brief–and I mean brief–opinion on the entire ordeal.
First, the list..
Former players: Vince Wilfork, Devin Hester, Sean Taylor, Jon Beason, Antrel Rolle, Jonathan Vilma, Kellen Winslow Jr., Andre Johnson, Clinton Portis, among others.
Current players: Jacory Harris, Travis Benjamin, Sean Spence, Marcus Forston, Vaughn Telemaque, Dyron Dye, Ray Ray Armstrong, Aldarius Johnson, Olivier Vernon, Robert Marve (now at Purdue), among others.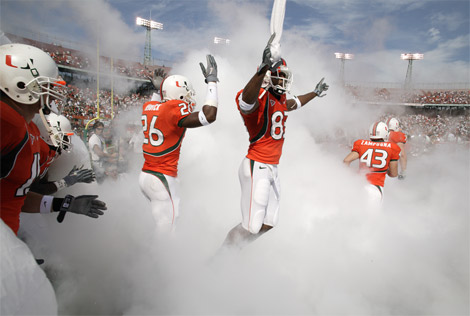 No current players named above have been handed suspensions yet, but unfortunately the suspensions are likely to be handed out pretty soon as long as convict Nevin Shapiro's information is 100 percent correct (Nevin is a former Miami booster, currently serving a 20-year jail sentence taking part in a ponzi scheme, who claims he gave these players the benefits).
Normally, since this does not affect the NFL (there's nothing the university can do about the players that are now in the NFL, other than maybe take away school records), I wouldn't cover this or even think about talking about it. But since this is something that bothers me in the college game, I decided I would take a few minutes to acknowledge it.
This report has resulted in ESPN trying to come up with 4,394 different ways of fixing this conflict in the collegiate game (exaggeration of course). But the truth is, there's no way for the NCAA to stop players from accepting these "illegal benefits" from boosters.
First of all, yes most of these players are on scholarship and do not have to put much money towards their education, but the reason they are there in the first place is because many of them don't exactly have gobs of money in their pockets and are trying to make it big in this profession.
There are those role players that are at college for primarily an education, then football. But for the star players, they are doing all they can to make it past the college level and make a living for themselves. So yes they are coveted prizes in the recruiting business, and people will be throwing money their way in an attempt to get them to come play for them.
What the NCAA needs to do is place themselves in the shoes of these players. If you were a 20-year old college student who was offered, I don't know, say $200,000 and a car to play for a historic football powerhouse (U. of Miami), I don't think they would pass up the opportunity either.
If you're going to blame someone, blame the people taking advantage of these young men and offering big money as a bribe. These "adults" that are offering money know they are breaking the rules, so punish them not the players simply doing what's best for themselves and their families.
Considering it is simply the NCAA's rules that are being broken, and not the state or federal law, I believe the NCAA would be better off just discarding these silly rules and let the recruiters have a free-for-all when it comes time to bring in top High School prospects.
As unfair as that sounds, I believe it is the only way to completely rid the NCAA of the problem. Have fun in trying to fix this mess, NCAA.
**Photo found on Google, no copyright infringement intended**