Ever since the Philadelphia Eagles' starting quarterback Michael Vick revived his career last season, the Philly Phans have found hope in their football team.
That newfound hope has gone off the charts after the start of free agency period began last week.
The Vick-led Eagles went 10-6, winning the NFC East by way of a tiebreaker over the New York Giants. But a late interception for Green Bay in the first round of the playoffs sent the Eagles home a bit earlier than they had expected.
There's no question that it was the offense that got the Eagles to the playoffs, but Philadelphia's defense–pass defense to be more precise–ended up costing them in the long run. The front seven failed to get much pressure on Super Bowl MVP Aaron Rodgers, and the weak secondary failed to force any interceptions and gave up three Rodgers touchdown tosses.
Throughout the regular season Philadelphia was ranked 22nd in overall defense, and was in the bottom half when it came to points allowed. What they were able to do is pick off a lot of passes (except in the postseason of course) as they had the third-most in the league with 23, but the secondary also gave up a lot of big plays (31 passing TDs allowed, third-most in league as well).
There's only one thing better than having as high-powered an offense as Philadelphia has, and that's having both a high-powered offense and a stout defense.
So what does head coach Andy Reid (118-73 RS record; 10-9 PS record in 12 seasons) and the front office go out and do?
Well, it's simple really. They focused on stacking up on the defensive side with loads of young talent. In fact, three of the team's first four picks in the April draft consisted of two DBs and a linebacker. Very smart.
And, finally, that brings us to now. The free agency period began near the end of July and the Eagles have made some solid editions not only to the defensive side of the ball, but they added some depth at the quarterback position as well.
After dumping young backup quarterback Kevin Kolb off to Arizona (received CB Dominique Rodgers-Cromartie and a second round pick in exchange), Philadelphia went out and took a risk in signing troubled Tennessee Titan Vince Young to a one-year contract to back up Vick.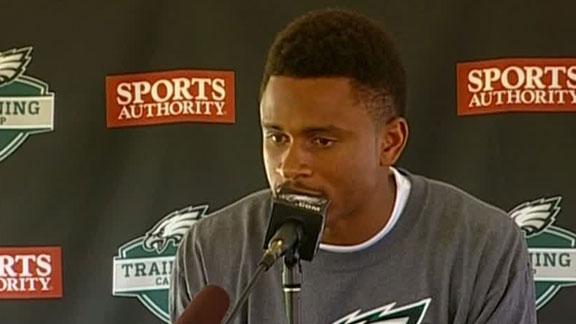 These two deals, however, weren't nearly as big as the moves they made on defense. On Friday, about 10 minutes after the New York Jets and Dallas Cowboys were both reportedly out of the running for coveted free agent cornerback Nnamdi Asomugha, the Eagles made a move and signed him to a mega five-year, $60 million contract.
Before the headliner took place, Philly made a huge addition in the front seven, adding (also a former Titan like Young) defensive end Jason Babin. Babin is a shifty pass rusher that would be a huge help to the Eagle's scheme. Although he was a late-bloomer (career-high 12.5 sacks with Tennessee last season), Babin, 31, was also locked up for five years.
As a result of the additions on defense, Philadelphia has been pushed in to the center of attention in not only the NFC East, but the NFL.
Seemingly overnight the Eagles have gone from division favorites to Super Bowl favorites, and rightly so. The talent was there last year, and almost all of it plus some will be back for this season.
But the fans of Philadelphia, and NFL fans and experts in general–hell, even some of the players–have crossed the line in comparisons to the Eagles 2011 squad being a "Dream Team" throughout the league.
Okay, I'm sorry but there is no such thing as a "Dream Team" when it comes to the sport of American Football. It is the ultimate team game and a couple of high-profile free agents cannot turn a team in to a Dream Team. It just does not exist in this league.
If the New England Patriots' 2007 team–undefeated before losing to New York in the Super Bowl and Miami's undefeated squad in '72 are not referred to as a Dream Team, then Philadelphia has no right to even be in the same sentence.
Haven't they learned something from the NBA? It's not a smart idea to hand out a crown before they actually do the dirty work to earn that crown. That's exactly what the NBA world did with the Miami Heat's "Dream Team" or "Big Three" with LeBron, Wade and Bosh signing big-time contracts last season. In a tweet Babin actually even compared his new team to the Miami Heat, saying he feels like they are "the Miami Heat of the NFL."
No. No, you aren't Jason.
I am not saying the Eagles aren't Super Bowl contenders–because you would have to be blind to not realize this team has talent. But there are other teams, such as Baltimore, New England, Green Bay, Pittsburgh and the New York Jets who could all keep up with this Eagles team.
Moral of the Story: Please stop crowning and comparing these Philadelphia Eagles. They are not my pick to win it all, and they will be known to me as the winners of the free agency period of 2011 until proven otherwise. Check back with me in February.
Photo credit
Nnamdi Asomugha: ESPN.com
VY/DRC/Babin: phillysportsdaily.com