As of yesterday, long-time Pittsburgh Steelers outside linebacker
James Harrison
will no longer be crushing skulls while sporting the black and gold. In fact, he'll be doing so while wearing a rival's uniform.
The 34-year old Harrison has signed a new two-year contract with AFC North counterparts the Cincinnati Bengals, meaning he'll meet the Steelers twice a year.
It'll be tough for Pittsburgh fans to root against Harrison, who was voted for five Pro Bowls and two First Team All Pro squads while with the franchise over the years. Here are some of Silverback's greatest moments while with Pittsburgh:
Long before Harrison was well-known around the league as the ferocious pass-rusher nicknamed Silverback, and long before commissioner Roger Goodell began fining him for countless illegal hits on opponents, there was this play. On Monday Night Football on October 10, 2005 during Pittsburgh's quest for Super Bowl win No. 5, Harrison picked off a
Drew Brees
pass attempt and ran it back for 25 yards near the 50-yard line in the second quarter.
It was his first career interception, but what was the most special part about that play was the fact that he jumped over LaDainian Tomlinson. At 6'0" and nearly 250 pounds, Harrison doesn't exactly look like a very nimble play on the field, but this play (shown below) put him on the map and showed everyone his athleticism.
Harrison Slams Browns Fan
If this incident doesn't discourage you from jumping out of the stands at an NFL game and running onto the field, then I honestly have no idea what will. On Christmas eve 2005 during a Steelers/Browns game, Browns fan Nate Mallett (had to do a little research to find out his name) ran out onto the field, and this was the result:
Ouch. Can you imagine being body-slammed by this dude? He says it didn't hurt, but I don't care how much alcohol is in your system, there's no way he didn't feel that one in the morning. At least the players he hits on the field are fully dressed with pads. Nate had nothing to protect him from Harrison and the cold-hard ground. I doubt he ever tried to pull something like that ever again.
Career-high 3.5 Sacks in a 38-7 MNF win over Baltimore
Throughout his career, Harrison was known to his fans as a Raven killer. He played his best games against their arch-rival Baltimore Ravens, and this 38-7 Monday night trouncing on November 5, 2007 was no different. In the first game Harrison started against the Ravens, he set a career-high with 3.5 sacks against Baltimore's
Steve McNair
. He also added an interception that he returned for 20 yards as McNair managed just 63 yards through the air on his 13 of 22 passing.
The 38 points scored is still the second-most the Steelers have ever put up against its AFC North rivals.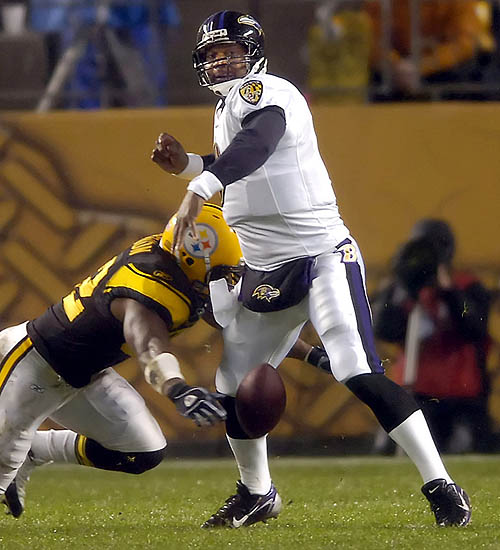 Three Consecutive Double-Digit Sack Seasons
In his 2008 campaign Harrison started all but one game while setting a career-high in sacks (16.0) and tying a career-high in forced fumbles (7) while recording 93 combined tackles. His first of two All Pro seasons happened to be the first out of his three consecutive double-digit sack seasons. The year prior he came up just short, recording 8.5 in his 16 starts. The next two years Harrison combined for 20.5 sacks in 32 starts, adding 2 interceptions, 11 forced fumbles and 179 combined tackles. During his three-year stretch from 2008-10, Harrison played his best football and was voted to three Pro Bowls and two All Pro teams.
After his 2010 campaign, Harrison was still dominant but only when he was healthy. Injuries and aging plagued his 2011 and 2012 seasons as he started just 11 and 13 games respectively. He did make the Pro Bowl again in 2011, but he combined for just 15 sacks over those two seasons.
Postseason Career-high 3.0 sacks in 2010 Divisional Victory over Baltimore
In Silverback's eight career postseason games his best performance by far came in the 2010 AFC Divisional game against, you guessed it, Baltimore. Harrison dominated quarterback
Joe Flacco
in the passing game, recording 7 combined tackles and sacking him a postseason career-high 3.0 times. The 31-24 victory put the Steelers in the AFC Championship and eventually back in the Super Bowl against the Packers, though Harrison performed poorly (1.0 sack, didn't make much of an impact on outcome) and the Packers came away with the 31-25 win.
In 11 career regular season games against the Ravens, Harrison has 66 combined tackles and 11.0 sacks. In his two career postseason games against Baltimore, he has 13 tackles and 3.0 sacks.
Record-breaking 100-yard Interception TD in Super Bowl XLIII
This was the defining moment in Harrison's career, and was the biggest play of Pittsburgh's 27-23 Super Bowl victory over the Cardinals. With the Cardinals down 10-7 just before halftime and knocking at the door, Harrison stepped right in front of a
Kurt Warner
pass and returned it all the way to the other end of the field for a touchdown. It was without a doubt a momentum-changer, as Warner's Cards had the ball inside the five and about to take the lead for the first time of the game.
The touchdown gave Pittsburgh an extended 17-7 lead at the half, and shifted the momentum back to their side. Though Arizona scored 16 4th quarter points and nearly completed the comeback in the second half, Pittsburgh managed to hold off the feisty Cards thanks to Harrison's Super Bowl record 100-yard interception TD. Though it was his second Super Bowl ring, it was the first one that he actually made a huge contribution to.
- - - - -
At 34 years old (will turn 35 on May 4) and missing eight starts over the last two seasons, it's clear that Harrison's best days are long gone. But that doesn't mean that he can't make a contribution to Cincinnati's pass-rush this season, which was ranked third in sacks in 2012 with 51.
Note: We do not own the above images and videos. No copyright infringement intended.