Ok, let's be real here for a couple minutes. Should anyone truly be shocked if the Carolina Panthers capture its first division title since 2008 this year?
Finishing at 6-10 with a rookie signal caller under center this past season, Carolina was seven games behind the first place New Orleans Saints and four behind the second place Atlanta Falcons. Sounds like a hefty task at hand for second-year head coach Ron Rivera, but it's really not as far off as you may think.
Taking a closer look at the 2011 campaign and it's clear that Carolina could have been a playoff team if they had caught just a couple of extra breaks. A little bit of luck, and the Panthers are in the thick of things down South.
First off, it's tough when you're forced to throw a rookie quarterback in a pool of sharks. That's pretty much what Rivera had to do in 2011, starting the No. 1 overall draft pick from day one against the Arizona Cardinals.
Carolina began the season at 2-6 heading in to the Week 9 off week, but the scoring was not lacking. Newton and his offense put up 20+ points in six of those eight games with wins over Jacksonville and Washington. In the second half of the season, Carolina went an even 4-4 with victories over teams such as division rival Tampa Bay (twice) and Houston.
Now, I will admit that the team's six victories weren't against the strongest teams (Tampa Bay, Washington, Jacksonville, Indianapolis and Houston), with a combined record of 26-54 and just one playoff team, but a majority of the 10 losses could have easily been wins as well.
The combined opposition record appears to diminish any value to the victories, but it really doesn't in my opinion. The Panthers were very much alive in all of its losses and, in fact, Newton came really close to leading the team over the defending champion Green Bay Packers in just his second career start (they lost 30-23).
Six of Carolina's 10 losses were by eight points or less, and they were blown out of the water just one time all season (30-3 Week 10 loss to Tennessee). Within the division, Carolina put up just a 2-4 record, defeating Tampa Bay handily on two separate occasions, but being defeated by New Orleans (30-27, 45-17) and Atlanta (31-17, 31-23) twice apiece.
Taking an even closer look and you can see that, despite some key injuries, the offense was very productive all season. Offensive Rookie of the Year winner Cam Newton did throw a decent amount of interceptions (16) but also set single-season rookie records for passing yards (4,051; previously held by none other than Peyton Manning himself) and rushing touchdowns by a quarterback (14).
One of the game's most dangerous rushing tandems–DeAngelo Williams and Jonathan Stewart–battled injuries throughout the season and each failed to break 1,000 yards for the second season in a row. During their most productive seasons, each of the two would run the ball 200+ times for over 1,000 yards and nearly 10 TDs.
Unfortunately Stewart saw 142 carries (761 yards, 4 TDs) while Williams got 155 (836 yards, 7 TDs). This, of course, still proved pretty productive as they both finished with 5.4 yards/carry averages, but didn't trump Newton's performance of 706 yards for 14 TDs (5.6 Y/C).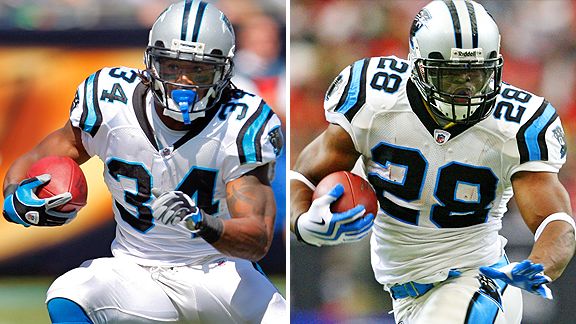 There have been numerous Stewart trade rumors spreading throughout the league for the past year or so, but none have been serious. This leads me to believe that he will once again don the Panther #28 jersey and shred through defenses come September. If the two can continue this success, stay healthy and possibly get closer to 200 carries in 2012 who knows if the offense will be stopped.
As a team, the Panthers put up 25.4 points per game in 2011, good enough for fifth in the league. In the running department, they ranked third in yards, first in TDs and first in Y/C...the passing game ranked in the middle of the pack, showing they have room for improvement and that will come with maturity (from Newton).
The defensive side of the ball was the achilles heel for the 2011 Panthers, as you can tell from looking at the offensive production.
The first and largest blow to the defense came before the season really got going. In July, middle linebacker and team leader Jon Beason was made the league's highest-paid MLB in history, signing a $50 million contract over five years ($25 million in guaranteed money). By September 14, he was placed on the season-ending injured reserve with a left achilles injury (total coincidence).
After that, things spiraled down from there.
Without his leadership, James Anderson (144 total tackles, 1.5 sacks, 2 INT, 8 PD, 3 FR in 16 starts) was forced to step up, and he did. But past Anderson, they really didn't get much production from the linebacking position and failed because of that. A great defense needs to force turnovers to give their offense a shot, but they ranked in the bottom half in turnovers in addition to allowing nearly 27 points per game.
Ranking in the bottom five defensively in points, yards allowed, rushing TDs and the bottom 10 in passing yards, passing TDs and rushing yards isn't exactly something you'd want on a resume. Injuries haunted Carolina all season long and the results mirror that.
The defensive line wasn't consistently anchored by the same guy, as Ron Edwards, Terrell McClain and Sione Fua all ended up on the IR at some point in the season.
The good news for Carolina? The defense can only get better from here. In the April draft, the front office added a great talent at linebacker in Boston College's Luke Kuechly at the No. 9 spot. Later in the draft they added some depth at D-End (Frank Alexander in the 3rd Rd) and secondary (CB Josh Norman in 5th, FS D.J. Campbell in 7th).
If Newton continues to improve at quarterback and he receives a repeat season from All Pro wideout Steve Smith (who has publicly stated he wants to play another 3-4 years), in addition to the stout run game continuing its success, then maybe Carolina can win this division without even playing lights out D.
I mean, come on. The Saints are still facing consequences from the BountyGate Scandal, which means no head coach and middle linebacker for 2012, and the Falcons have continued to underachieve when it matters most.
I stand by my statement: Carolina is my NFC South winner for the 2012 season. Just wait, football fans.
Note: I do not own any of the above images. No copyright infringement intended.