Yeah, it's the off-season. So what? That's not going to stop the trash-talking between rivals. At least not when Osi Umenyiora is around...
The defensive end for the defending champion New York Giants took a shot at Philadelphia Eagles running back Lesean McCoy early this morning via Twitter.
As NFC East counterparts, of course the Giants and Eagles rivalry is heated year in and year out. A guaranteed bloodbath every time the two squads share the field. But unlike many other rivalries in the National Football League, sometimes this one gets a little personal.
Umenyiora and running back McCoy have been known to exchange some words while on the playing field, but they aren't shy on Twitter either. Last offseason McCoy referred to Umenyiora as "overrated and soft" on his Twitter page.
This morning it was Umenyiora, 30, in the middle of a contract dispute with New York, who talked a little smack on his rival. Here's what his tweet read:
Happy Mother's day Lesean Mccoy! Enjoy your special day!!
Seems like a playful jab at McCoy, though knowing Umenyiora and his view on the Eagles I wouldn't doubt his sincerity in his tweet.
Normally I wouldn't even acknowledge an antic like this because it's meaningless, but I just found it very interesting and thought I'd point it out to my readers. Fans and news outlets seem to be making a huge deal out of the tweet, but I personally find this an entertaining way of messing with an opponent.
Come on, people. McCoy and Umenyiora are rivals and aren't very fond of each other. Aren't you glad he's tweeting playful trash-talk rather than violent threats? Not to mention McCoy was asking for it when he called Umenyoria soft.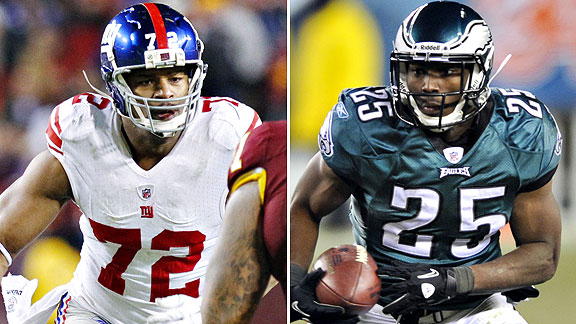 In the words of New England's Chad Ochocino: "Child, please.."
McCoy has owned the G-Men defense (three 100-yard games and 3 TDs in three pro seasons), yeah. But at the same time Umenyiora has the stats (12.5 career sacks vs. Philly) and the rings (two SB wins w/ NY) to stack up against McCoy and his trash talk.
Neither party (McCoy and Umenyiora) have backed away from the smack talk, and this is just the latest chapter in the NYG/PHI showdown. It's almost as if this rivalry desperately needed something to fuel the fire...