It's been quite a while since I've made a solid post (over a month, in fact). I've been incredibly busy unfortunately, but I have been making plenty of shorter posts over on All-Out Blitz's
Tumblr Page
. If you would like to check out my more updated blog then just click on that link I provided.
Anyways, I was unable to find the time to do a mock draft this year and haven't done too much coverage on it either. But after watching last night's first round I would just like to take the time to praise the New England Patriots, who surprised everyone by doing the unexpected.
Yeah, yeah, we know the Colts and Redskins made huge upgrades by selecting the top two signal callers in the draft: Andrew Luck and Robert Griffin III, respectively. But it was the second half of the first round that was full of surprises.
Normally head coach Bill Belichick would trade down in the draft, and try to land a couple later-round picks. He loves filling voids with veterans, and he finds guys who can fit his system and have experience under their belt. So it's not really a huge surprise to see him trading away those top picks and filling roster slots with seasoned veteran free agents.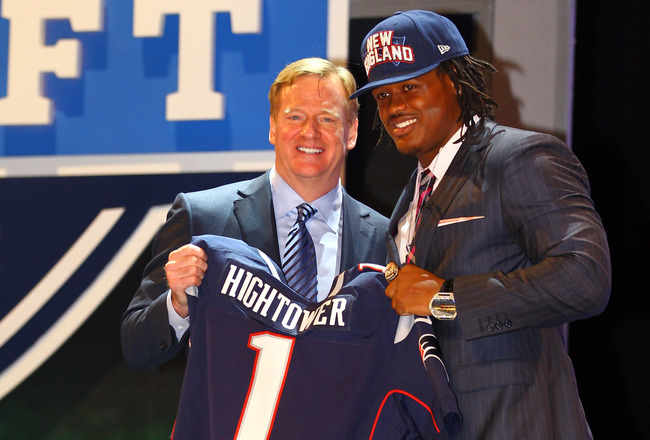 However, this year has been a different story thus far. Possessing the No. 31 overall selection, New England traded up to No. 21 (from Cincinnati) and selected the physical defensive end from Syracuse, Chandler Jones.
Trading up 10 spots was surprising enough to me (loved the move, by the way), but then New England took it a step further by trading up a second time, for Denver's 25th pick. The two swaps will cost them a third and fourth-round pick, but when you consider that New England was 31st against the pass and 17th against the run last season, they'll tell you it was well worth adding a D-end and inside linebacker.
As an NFL fan, this is refreshing to see. And personally, it will be rather exciting seeing these two guys suit up on the same defense in 2012.
Perhaps Belichick has another surprise up his sleeve in the later rounds? Only time will tell.
Other surprises of round one:
*Browns acquire No. 3 overall pick from Vikings for CLE's No. 4 overall pick and their 4th, 5th and 7th round picks. Cleveland selects Alabama running back Trent Richardson.
*Browns select QB Brandon Weeden at No. 22 after acquiring the pick from Atlanta (looks like the end of the Colt McCoy era is already here).
*West Virginia's defensive end Bruce Irvin is selected at No. 15 (acquired from Eagles), after originally being projected to go in the early-to-mid second round.
*Pittsburgh selects Stanford guard David DeCastro. Ok, so maybe it isn't exactly the biggest surprise here, because he is rated highly. But I was just expecting the Steelers to snag Hightower at inside linebacker after the release of James Farrior earlier this off-season.
Any other first round surprises I missed? Post them here, in addition to other comments you may have. Thanks.
Photo found on bleacherreport.com. I do not own it, no copyright infringement intended.