The New York Giants celebrating Super Bowl XLVI in the style of a parade through downtown Manhattan isn't the only NFL news making headlines today, Tuesday February 7.
Former New Orleans Saints, Miami Dolphins and Baltimore Ravens Pro Bowl running back Ricky Williams will reportedly announce his retirement from the game, a source told ESPN's NFL Insider Adam Schefter.
The one-time Pro Bowler, winner of the 1998 Heisman trophy while playing at the University of Texas, played 11 seasons in the NFL upon entering the league as a fifth overall pick in the '99 draft. Hall of Fame head coach Mike Ditka, then coach of the Saints, moved up to snag him early in the draft.
Williams had a solid career, when he was focused on football, but I believe he may have been one of the most-touted college ballplayers the league has seen. Having high hopes as a Heisman winner, Ditka spent all of the team's draft picks in 1999 to move up in the draft and select him, the trade also included first and third rounders the following year.
The trade involving New Orleans and the Redskins has gone down as one of the most well-known draft-day trades in recent history: one player in exchange for eight draft picks.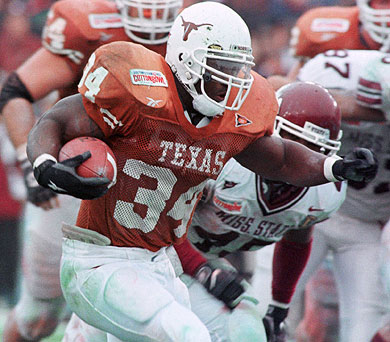 Coach Ditka, nearing the end of his coaching career, went all-in to get his hands on Williams, who ended up spending just three seasons as the Saints' running back. He ran for just over 3,000 yards and 16 touchdowns in 38 starts, but the Saints posted a 15-33 record over that span and Ditka was fired as head coach.
The following season Williams was traded to Miami, once again warranting a hefty price–four draft picks, two of which were first rounders. Williams stepped up his game, setting a career- and league-high 1,853 yards and 16 touchdowns in his first season with the 'Phins. That year, 2002, was his only Pro Bowl and All Pro selection of his career.
In 2003 Williams ran for 1,372 yards and nine TDs, but his yards per carry average dropped to just 3.5 after carrying a heavy workload of 392 rushing attempts.
Following Miami's 10-6 season, just missing out on the postseason, Williams allegedly failed a drug test and was facing a fine and four-game suspension for the 2004 season. And failed another just before training camps began. He stunned the Miami fan base by announcing his early retirement from the game of football on August 2, 2004.
The Dolphins finished 4-12 and Ricky took the year off studying the Ancient Indian System of holistic medicine at the California College of Ayurveda.
As we all had anticipated, Williams returned to the game in 2005. Upon being reinstated by the league and serving his four-game suspension Ricky ran for 743 yards and six touchdowns in '05 for the 9-7 Dolphins. More trouble came his way, however, as he was suspended for the entire 2006 regular season after violating the NFL's drug policy for a fourth time.
Williams signed a one-year contract with the Canadian Football League's Toronto Argonauts, where he rushed for 526 yards and two touchdowns in 11 games. Controversy brewed after Williams' signing, and a rule ("The Ricky Williams" rule) was put in place prior to the 2007 season that prevented a suspended NFL player from signing with a CFL team.
Williams made just one start with Miami in '07, but showed signs of rebirth the following two years, putting up 1,780 yards and 15 TDs from 2008-09. The last two years he has had his role on his respective squad reduced, as he ran the ball just 108 times this past year in his lone season in Baltimore.
The retirement announcement doesn't come as a surprise to me, and shouldn't come as a surprise to anyone else. Williams signed the deal with Baltimore over the offseason as one last push to get himself a Super Bowl ring.
Though the contract was two years, the retirement makes plenty sense. At 34 years old, Slick Rick knew his role would be no more than third down back in Baltimore, and aiding youngster Ray Rice in developing as a complete player.
Known as the type of guy to keep to himself in the locker room throughout his career, I would expect a very low-key retirement for Williams. After eclipsing 10,000 career rushing yards this season, it's safe to say Ricky's career was a success, though I think there was much more that could have been achieved had he been consistent with his performance.
I don't believe his career warrants a Hall of Fame selection, though he did happen to be just the 26th player in history to reach the 10,000 rushing yards milestone. However, there's no doubt he should have any shame in his on-field success. It's not often you see a guy play running back in this league until they are 34 years old like Ricky did.
Despite his troubles with drugs, Ricky Williams was a stand-up guy and was generally well-liked by the teammates that understood his way of life. Quiet, reserved, yet well-disciplined. Solid career he put up over those 11 years, and not enough people have commended him for it. So to you, Ricky, I tip my hat.
Photo credit
With Longhorns: borrowed from ESPN.com
With Dolphins: borrowed from nj.com